No Comments
World Press Photo 2018 - I Vincitori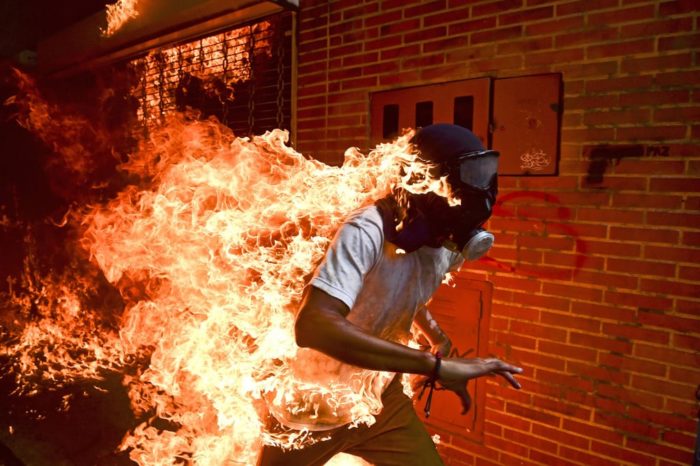 Redazione Art-Vibes | On 13, Apr 2018
Ronaldo Schemidt con "Venezuela Crisis" si aggiudica il prestigioso riconoscimento di World Press Photo of the Year.
di Redazione Art Vibes
---
Picture: Ronaldo Schemidt (Agence France-Presse) – Venezuela Crisis, Photo of the Year, World Press Photo of the Year 2018.
---
Sono stati annunciati gli scatti vincitori del prestigioso contest internazionale World Press Photo of the Year edizione 2018. Il premio più ambito, il Photo of the Year 2018, è stato vinto da Ronaldo Schemidt, 46enne fotografo dell'agenzia France Press.
La sua un'immagine molto forte che raffigura uno studente di 28 anni (José Víctor Salazar Balza) che prende fuoco nel bel mezzo dei cruenti scontri tra manifestanti e polizia durante le proteste contro il governo in Venezuela.
Il ragazzo con il viso coperto da una maschera antigas, corre avvolto dalle fiamme, sullo sfondo un muro con la piccola scritta nera "Paz" (Pace) che viene fuori dalla canna di una pistola
Un'istantanea molto cruda che ha convinto la giuria, presieduta da Magdalena Herrera, (responsabile della sezione fotografica della rivista Geo in Francia), un'immagine che rappresenterebbe simbolicamente un intero Paese in fiamme.
Gli altri finalisti per l'ambito riconoscimento Photo of the Year 2018 erano: Patrick Brown, con un'immagine sulla crisi dei profughi rohingya intitolata ("Panos Pictures, per Unicef Rohingya Crisis"); Adam Ferguson per il The New York Times, che ha ritratto alcune ragazze rapite da Boko haram in Nigeria ("Boko Haram Strapped Suicide Bombs to Them. Somehow These Teenage Girls Survived. – Aisha, age 14"), Toby Melville della Reuters, con una foto raffigurante le vittime dell'attentato di Londra ("Witnessing the Immediate Aftermath of an Attack in the Heart of London"), Ivor Prickett per il New York Times, con lo scatto dal titolo: ("The New York Times
The Battle for Mosul – Young Boy Is Cared for by Iraqi Special Forces Soldiers").
Tra le altre foto premiate: Magnus Wennman che ha vinto nella categoria persone, foto singola, con un'immagine ("Aftonbladet
Resignation Syndrome") in cui sono ritratte due ragazze rifugiate a Horndal, in Svezia, che soffrono di uppgivenhetssyndrom (sindrome da rassegnazione).
Per vedere tutte le foto premiate e per sfogliare l'intera galleria, ecco il sito ufficiale del contest.
Ricordiamo inoltre che sarà possibile vedere dal vivo tutte le foto premiate, perché faranno parte di una mostra itinerante, che girerà per 45 paesi, e toccherà l' Italia (Roma) il 27 Aprile al Palazzo delle esposizioni.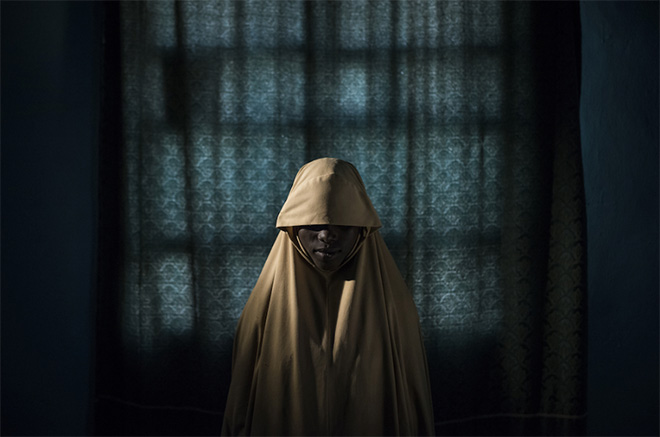 Adam Ferguson, The New York Times. Title: Boko Haram Strapped Suicide Bombs to Them. Somehow These Teenage Girls Survived. – Aisha, age 14. Persone, Storie, 1° premio. World Press Photo of the Year 2018
---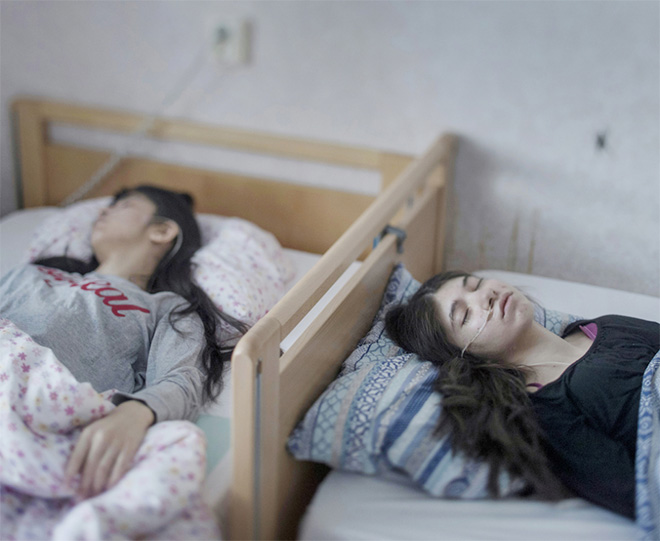 Magnus Wennman, Aftonbladet
 Resignation Syndrome. People, 1° premio. World Press Photo of the Year 2018
---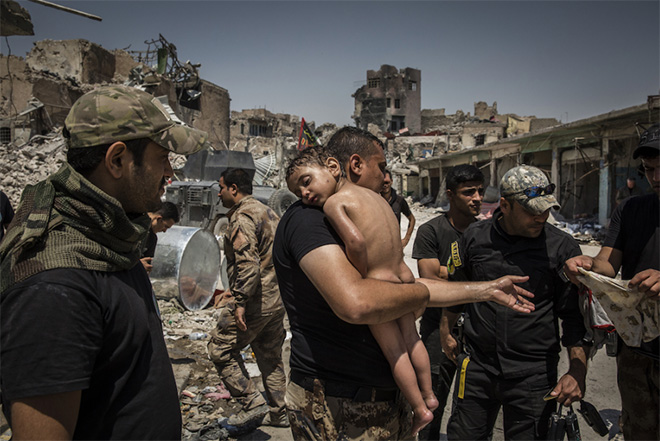 Ivor Prickett, The New York Times
 – The Battle for Mosul – Young Boy Is Cared for by Iraqi Special Forces Soldiers. General News, Storie, 1° premio. World Press Photo of the Year 2018
---
– photo courtesy of: worldpressphoto.org
---
– website: worldpressphoto.org
---