No Comments
Moleskine smart notebook CC - Paper + Digital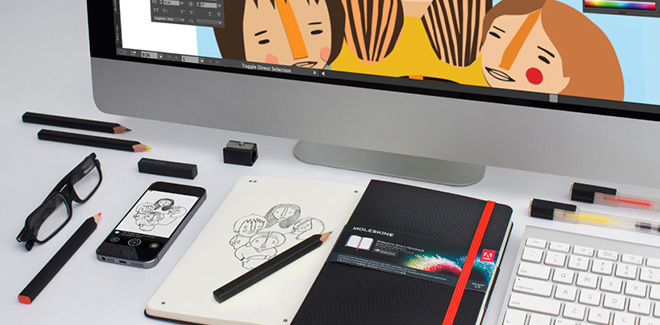 Redazione Art-Vibes | On 21, Nov 2014
Il dialogo tra la carta della Moleskine e la nuvola di Adobe permette di convertire i disegni in formati editabili per i software di editing grafico.
di Redazione Art-Vibes
---
Nei giorni scorsi è stato presentato all'Adobe Max, la conferenza creativa organizzata da Adobe, il notebook moleskine in grado di collegarsi al servizio Cloud di Adobe in modo da semplificare al massimo il processo produttivo, trasformando un disegno su carta in formato vettoriale, editabile attraverso i software Adobe Illustrator CC e Adobe Photoshop CC.
Tale soluzione innovativa facilita di molto il flusso di lavoro tra carta e digitale garantendo un'esperienza unica per designer ed artisti.
Sarà sufficiente disegnare sulla nostra agendina elettronica e catturare in seguito le proprie creazioni tramite un'apposita applicazione per smartphone il cui compito sarà quello di convertire lo sketch in formato vettoriale per i software di produzione grafica di Adobe.
Lo sviluppo creativo, a volte limitato da problemi logistici, ora si apre a nuove frontiere, difatti è indubbio che si possa elaborare meglio un concept accattivante seduti sotto un albero al parco, ispirati dal vento o dall'osservazione di ciò che ci circonda piuttosto che limitati da quattro mura con l'unica visione di un anonimo pc che aspetta i nostri input.
The Moleskine Smart Notebook, Creative Cloud connected. – video courtesy of: Moleskine ® – The Official Channel
---
Alimentato da software SDK, l'"Adobe creative cloud moleskine", offre un sistema unico che funge da ponte tra l'analogico e il digitale per un'esperienza continuativa davvero unica nel suo genere.
Come si può osservare dalle immagini i marcatori di pagina negli angoli della nostra agendina, ricoprono un ruolo fondamentale nella delicata fase di pre-elaborazione ed ottimizzazione delle immagini prima che siano sincronizzate in entrambi i formati JPG e SVG, pronti per essere editati in photoshop o illustrator.
Questo nuovo nuovo prodotto si aggiunge ad una serie di soluzioni già sviluppate da Adobe, come "Livescribe smartpen", "Wedding planning journal", e 'SMART Notebook' per Evernote, tutte progettate per alleggerire il flusso di lavoro dei designer e stimolare la creatività di ognuno di noi.
---
– images via: fastcodesign.com
– photo courtesy of: © Moleskine
Moleskine smart notebook creative cloud – Paper + Digital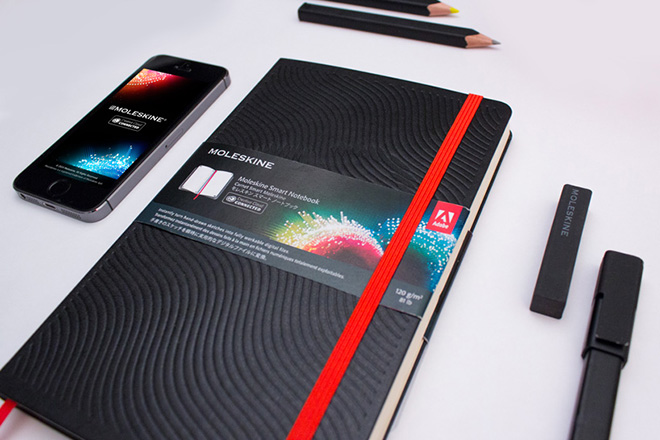 Users draw in the moleskine smart notebook and capture their creations using the companion app
---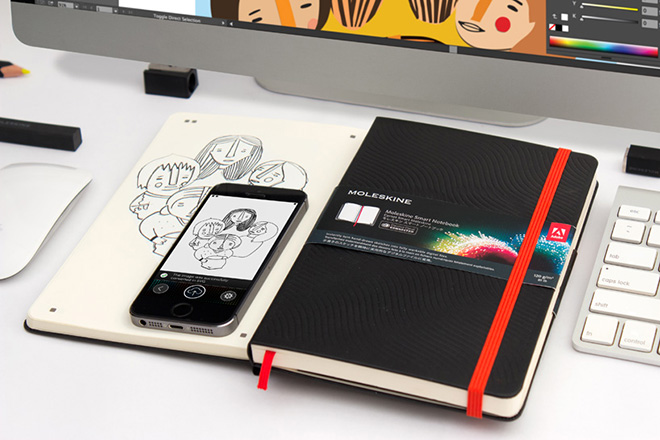 All tools you neeed to use in the better way this innovative product
---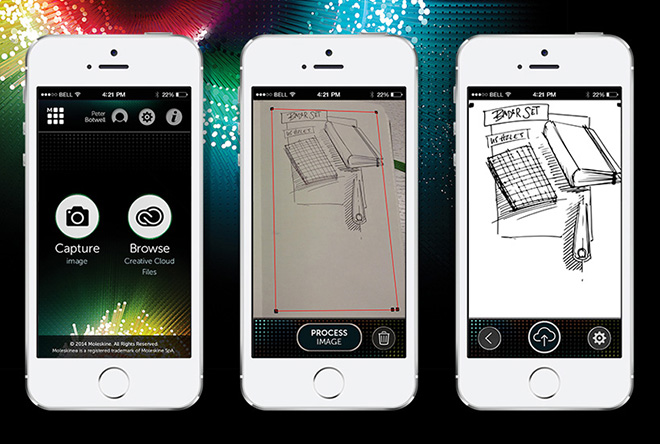 Page markers aid the processing of the sketches for formatting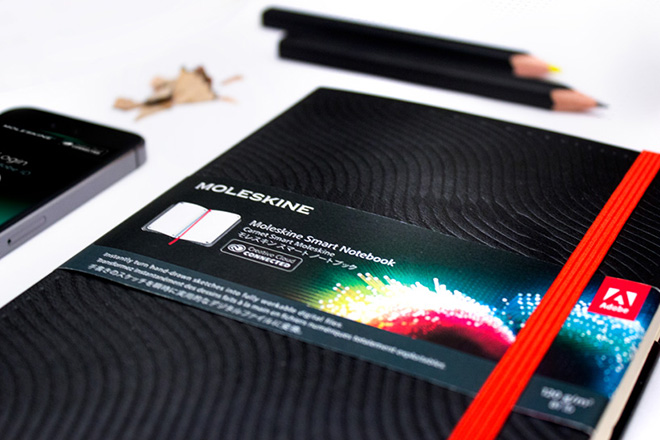 Adobe creative cloud moleskine cover
---
Moleskine smart notebook creative cloud – Paper + Digital
---
–
Further reading
:
– Adobe creative cloud moleskine website: moleskine.com
---