No Comments
Claudio Parentela - #Vision 10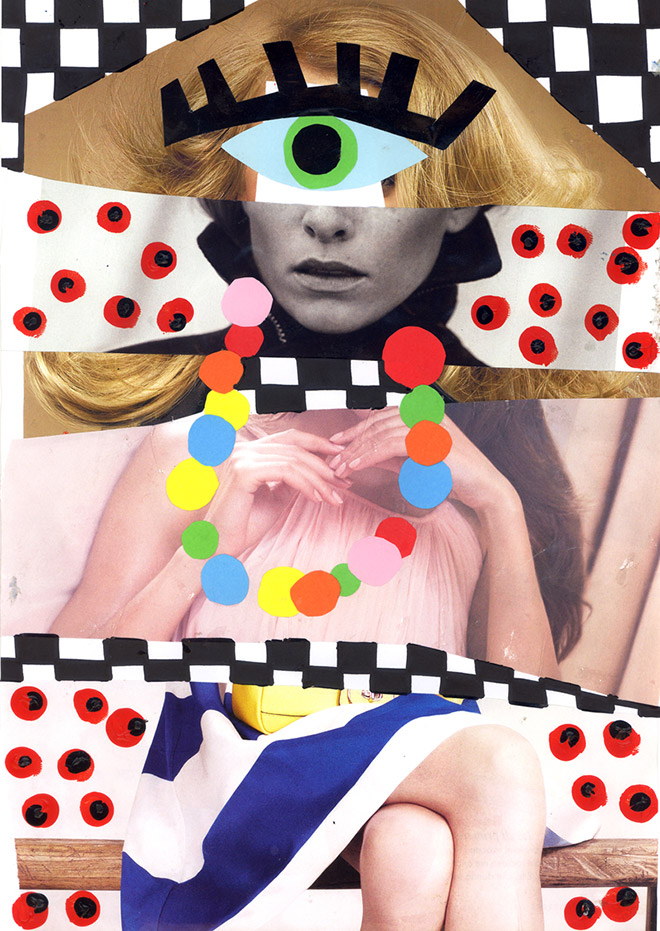 Redazione Art-Vibes | On 26, Lug 2014
Tra moda e fumetti underground: il flusso artistico di Claudio Parentela.
---
Amo annodarmi e sciogliermi continuamente ogni giorno, sentirmi protetto, indifeso, sconfitto e vincitore nei miei nodi, nelle foto che taglio, cucio, incollo e spezzetto per poi sporcarle di mille colori nuovi e poi ancora inondarle di fiumi di inchiostro nerissimo.

Il mio lavoro è una trance sciamanica che reivento ogni giorno per sperimentarmi e mai conoscermi.
Moda e fumetti underground : Ghedalia Tazartes, Sun Ra, Diamanda Galas, Patty Waters, Asterix e i Simpsons, Can Coil, John Galliano, Moschino, Vivienne Westwood, i miei pensieri gialli e verdi, le mie emozioni a strisce…i miei piedi nell'acqua del lago.
Ho disegnato e dipinto solo in bianco e nero per 15 anni…avevo ed ho bisogno di colori…di nuovi materiali, creo con tutto quello che ho sotto mano, adoro fotografare e sporcare le mie fotografie, mi piace decontestualizzare tutto quello che sento che osservo, fare salti quantici….nei miei schizofrenici '"collages…?".
E' un flusso continuo che mi piace sentire ogni attimo …ogni giorno….un divertente curiosare nel mio frullatore mentale …amo l'antica calligrafia Cinese, la sua eleganza, la sua semplicità e la sua complessità… credo che l'ordine che cerco nelle mie composizioni ne sia molto influenzato… allo stesso tempo penso che i miei lavori abbiano un'estetica molto molto punk…mi è necessaria…direi essenziale… tanta musica per mettermi al lavoro ogni giorno.
Ascolto di tutto, tutta la musica è racchiusa nei miei lavori, amo la solitudine e la montagna, nei miei lavori c'è la montagna e la solitudine e altro ancora che non so…e che non mi importa.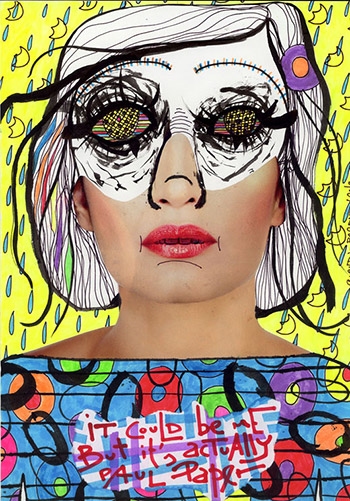 Image courtesy of Claudio Parentela
CLAUDIO PARENTELA ARTWORKS
CLAUDIO PARENTELA ARTWORKS
–
Note Bibliografiche
Born in Catanzaro(1962-Italy) where he lives and works…Claudio Parentela is an illustrator,painter,
photographer, mail artist,cartoonist, collagist, journalist free lance…Active since many years in the international underground scene.
He has collaborated&he collaborates with many,many zines,magazines of contemporary art,literary and of comics in Italy and in the world…& on the paper and on the web.
---