2 Comments
HAZ Umbrella - Smart Umbrella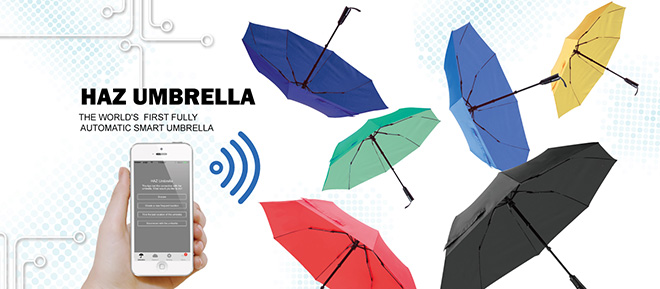 Redazione Art-Vibes | On 14, Lug 2015
Il primo ombrello smart, automatico, collegato in app al tuo telefono.
di Redazione Art Vibes
---
HAZ Digital Inc., startup con sede a Taiwan che sviluppa tecnologia all'avanguardia IoT (Internet of Things), irrompe nel mercato dei dispositivi tecnologici con il primo Smart Umbrella automatico con funzioni collegate a Internet, tra cui il rilevamento della posizione per prevenire lo smarrimento e la possibilità di fornire promemoria in merito alle previsioni meteo.
Con questo nuovo ombrello potremo sbarazzarci dei modelli obsoleti e ingombranti e lasciare spazio a questa chicca tecnologica che incorpora al suo interno un un motore ad alta precisione, un microchip, e una batteria agli ioni di litio ad alta prestazione, che permette di aprire, ampliare, e chiudere il tutto con la semplice pressione di un pulsante. Integra inoltre l'intelligente funzione anti-perdita: la tecnologia Bluetooth Low Energy, attraverso il chipset Bluetooth incorporato è in grado di connettersi all'iPhone o al dispositivo Android dell'utente informandolo dello smarrimento e segnalando la sua ultima posizione. L'applicazione è in grado altresì di informare sulle condizioni meteo, segnalando possibili scrosci di pioggia o l'incidenza elevata del livello di raggi UV.
HAZ – The World's 1st Auto Smart Umbrella – video courtesy of: HAZ Umbrella
---
"La tecnologia nel settore degli ombrelli non ha visto grandi progressi negli ultimi decenni", ha dichiarato Harry Hu, co-fondatore e direttore di prodotto di HAZ Digital Inc. "L'HAZ Umbrella è l'esempio lampante di un dispositivo che sfrutta la tecnologia per costruire prodotti per migliorare gli stili di vita in un'epoca ipercollegata a Internet. Non solo l'ombrello offre enormi vantaggi in termini di convenienza e facilità d'uso, ma pensiamo che possa rappresentare un fantastico oggetto di moda e design."
HAZ Umbrella è stato proprio oggi lanciato sulla piattaforma di crowdfunding Indiegogo, con l'intento di ottenere i finanziamenti necessari per il suo sbarco definitivo sul mercato. Il prezzo di vendita stimato del prodotto sarà di $ 109 USD e i primi 300 sostenitori riceveranno il prodotto per un impegno di soli 69 dollari.
---
– images credit: © HAZ Digital Inc.
– via: Art Vibes submission
HAZ Umbrella – Smart Umbrella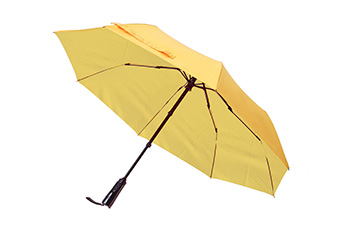 HAZ Umbrella – Yellow version
---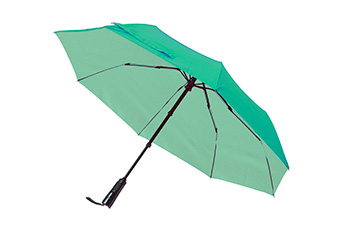 HAZ Umbrella – Green version
---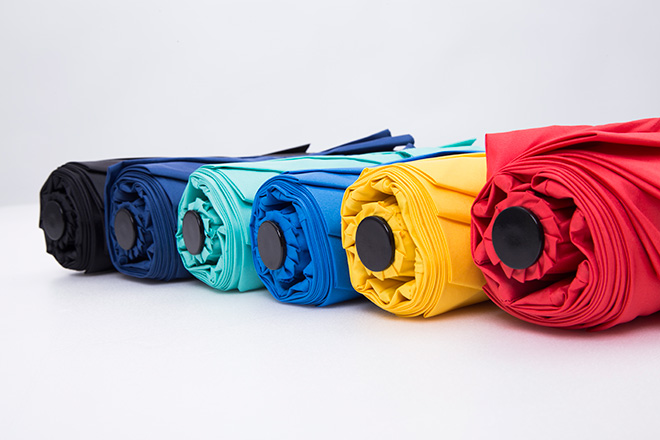 HAZ Umbrella – 6 different colors
---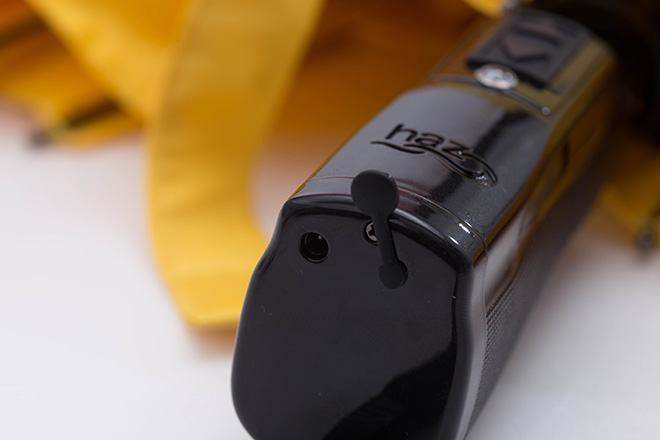 HAZ Umbrella – Umbrella head
---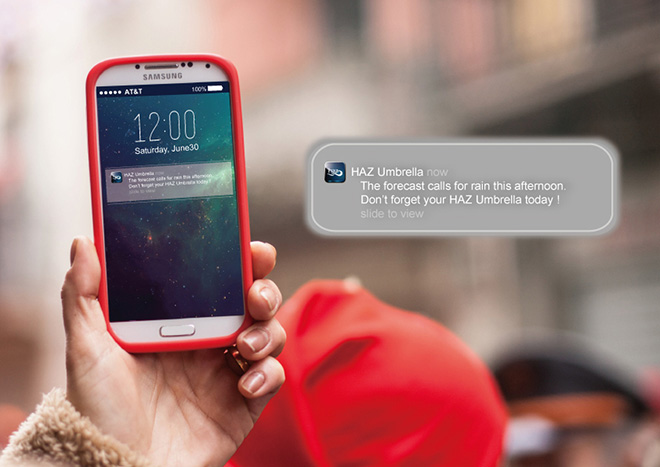 HAZ Umbrella – Rain Forecast
---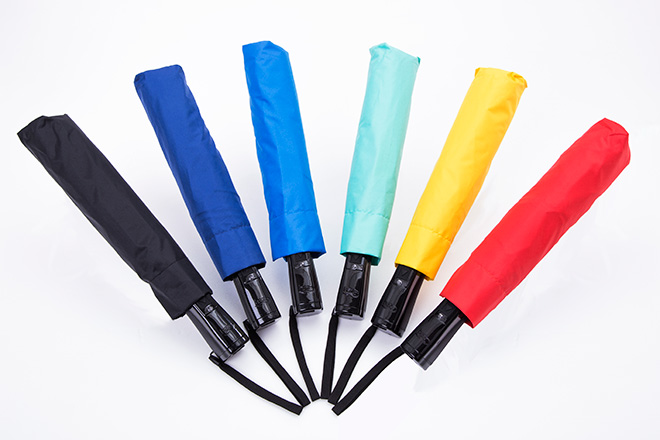 HAZ Umbrella – 6 different colors
---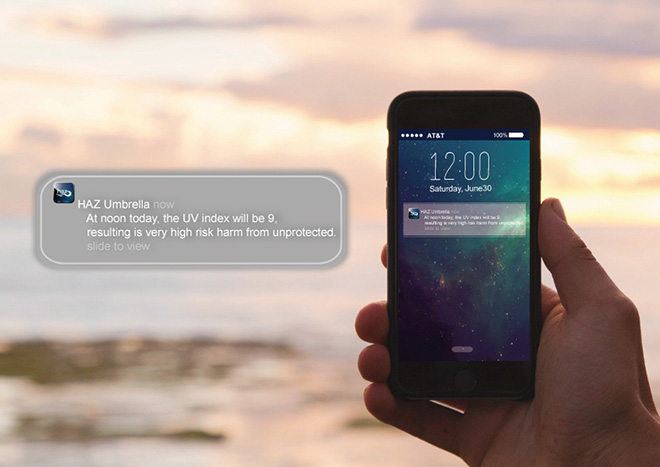 HAZ Umbrella – UV Forecast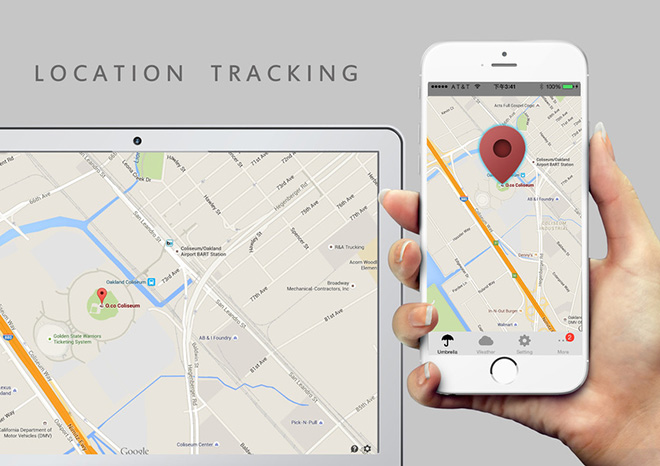 HAZ Umbrella – Location Tracking
HAZ Umbrella – Smart Umbrella
Further reading:
– HAZ Umbrella website: hazumbrella.com
– Indiegogo crowdfunding campaign: indiegogo.com
---