No Comments
Shepard Fairey (Obey) - The Knowledge + Action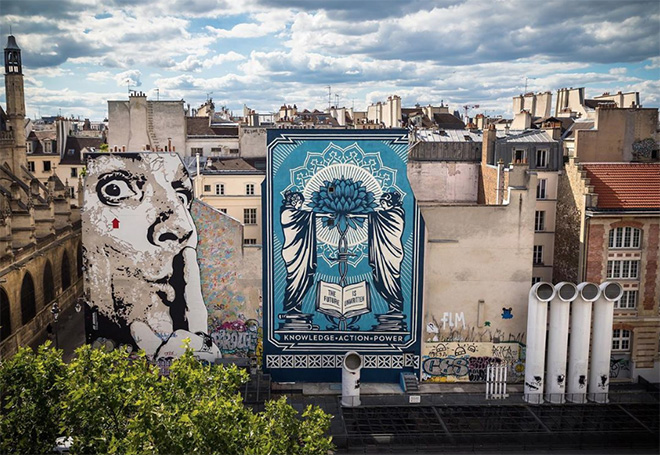 Redazione Art-Vibes | On 02, Lug 2019
Il novo murale di Shepard Fairey a Parigi, un'esortazione ad un maggiore impegno civile, un invito alla conoscenza e all'azione.
di Redazione Art Vibes
---
Picture: Shepard Fairey (Obey) – The Knowledge + Action, Paris, 2019. photo credit: Jon Furlong. via: https://www.instagram.com/obeygiant/
---
L'ultima opera murale di Shepard Fairey, alias Obey, campeggia da pochi giorni nella storica piazza limitrofa al Centro Pompidou e proprio di fronte alla Fontana Stravinsky, nel cuore di Parigi.
"L'apatia e l'ignoranza hanno promosso un declino della civiltà e dell'impegno civico di qualità, dando origine a forze che promuovono la paura, la divisione e il nazionalismo.".
Così si esprime l'artista sul suo Canale Instagram per presentare l'opera "The Knowledge + Action", una celebrazione del percorso che l'uomo contemporaneo dovrebbe intraprendere per assurgere ad un ruolo di potere, da esercitare poi in modo democratico ed equo.
Solamente dalla somma di "Conoscenza" e "Azione" può nascere un potere puro e consapevole.
Il murale realizzato con la collaborazione della galleria Itinerrance, ha introdotto la mostra dello stesso artista intitolata "Facing The Giant – 3 Decades Of Dissent", esposizione che condensa la trentennale carriera creativa di un grande talento dell'arte urbana.
L'artista, noto in tutto il mondo per la pervasività dei messaggi sociali delle sue opere, scende in campo artisticamente nella capitale parigina dopo l'intervento green di qualche anno fa sulla Torre Eiffel.

– via: instagram.com/obeygiant – photo credit: Jon Furlong.
---