No Comments
Ernest Zacharevic - Murale a Torino: "Bronze sculpture - History and tradition"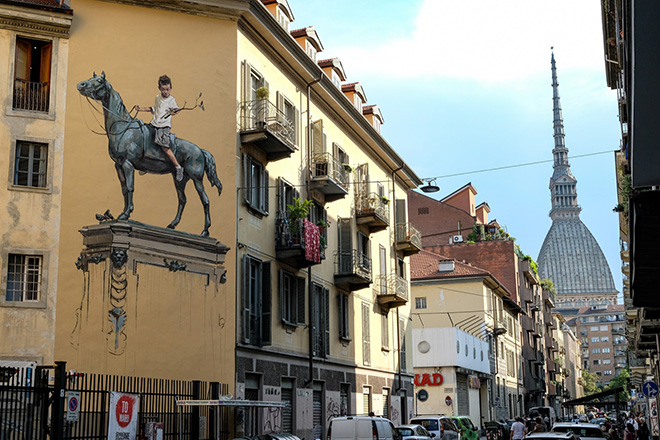 Redazione Art-Vibes | On 04, Lug 2019
Street art, educazione e sviluppo sostenibile: a Torino una nuova opera murale del progetto TOward 2030.
di Redazione Art Vibes
---
Picture:Ernest Zacharevic – "Bronze sculpture – History and tradition", murale a Torino.
---
Ernest Zacharevic è l'ultimo in ordine cronologico tra gli artisti scesi in campo per il progetto TOward 2030, iiziativa promossa da Lavazza che pevede entro la fine del 2019 la creazione nella città di Torino di ben 17 murales con il fine ultimo di sensibilizzare gli obiettivi di sostenibilità delle Nazioni Unite (SDG) attraverso i linguaggi artistici più contemporanei.
"Porre fine alla povertà, proteggere il pianeta e assicurare a tutte le persone pace e prosperità" entro il 2030, questo l'impegno sottoscritto da 193 paesi e reso visibile attraverso lo stile unico di grandi street artist internazionali.
Dopo Zed1 e Ufocinque, vi documentiamo anche il recente intervento di Ernest Zacharevic, un pezzo che si ispira al "goal 4" dell'Onu, attinente all'educazione e allo sviluppo sostenibile. Un bambino a bordo di un cavallo si fa portavoce delle generazioni più giovani, responsabili per gli anni a venire del futuro del pianeta e del benessere di chi lo abiterà.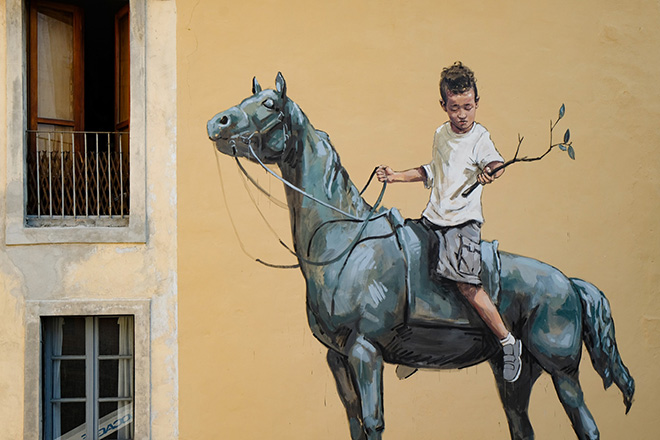 Ernest Zacharevic – "Bronze sculpture – History and tradition", murale a Torino
---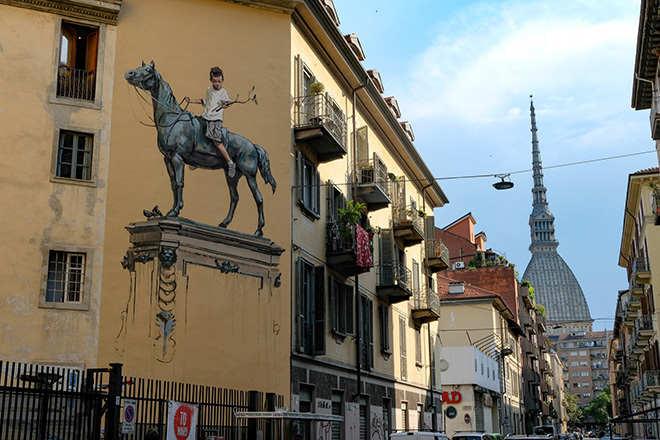 Ernest Zacharevic – "Bronze sculpture – History and tradition", murale a Torino
---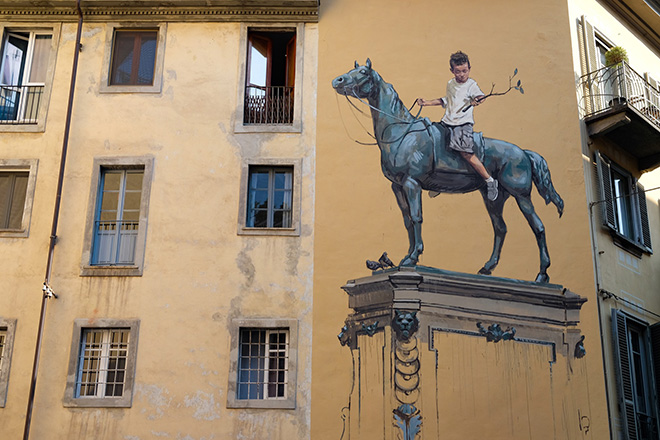 Ernest Zacharevic – "Bronze sculpture – History and tradition", murale a Torino
---
– via: lavazza.it – images via: streetartnews.net
---
– website: ernestzacharevic.com
---