No Comments
Dominic Wilcox - Stained Glass Driverless Sleeper Car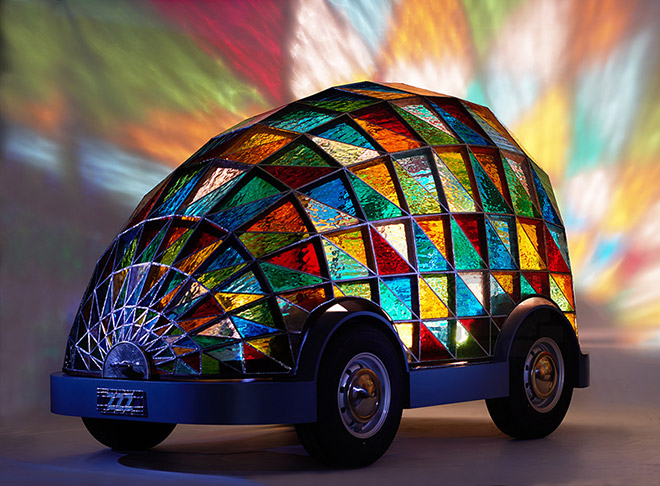 Redazione Art-Vibes | On 21, Set 2014
Le auto del futuro saranno così sicure da potersi permettere carrozzerie interamente realizzate in vetro.
di Redazione Art Vibes
---
Durante l'ultima edizione del London Design Festival 2014, un progettista inglese di nome Dominic Wilcox ha rivelato la sua idea di design futuristico legato al mondo delle quattro ruote.
Considerando le progressive evoluzioni della tecnologia driverless, il designer ha ipotizzato una sempre più crescente sicurezza collettiva arrivando a immaginare un futuro in cui le auto saranno così sicure da potersi permettere carrozzerie interamente realizzate in vetro.
Sulla scia di queste riflessioni ha presentato un concept di "car design" a grandezza naturale composto esclusivamente da vetrate colorate.
Il suo progetto riconsidera il trasporto veicolare come habitat nomade, uno spazio di vita su ruote, sprovvisto dell'abituale equipaggiamento di sicurezza a cui siamo normalmente abituati (airbag, paraurti, etc).
Ha incorporato la propria esperienza visiva nella progettazione di tale prototipo, un telaio che riunisce tante piccoli porzioni di vetro, che combinate tra loro sembrano delineare la piccola vetrata di una cattedrale.
Il lavoro, commissionato da Dezeen e MINI Frontiers, in occasione della loro mostra sul futuro della mobilità, si intitola "Stained glass Driverless Sleeper – Car of the future".
Come si può ben notare dalle immagini sarà possibile anche schiacciare un pisolino in viaggio, sicuri che il computer in fase di guida ci porterà verso la destinazione desiderata.
Se davvero in un prossimo futuro le automobili saranno sprovviste di guidatore e il livello di sicurezza in strada sarà così elevato, saranno i designer a potersi sbizzarrire attraverso la creazione di telai e carrozzerie da urlo.
Behind the scenes with Dominic Wilcox making his "stained-glass driverless car" – Video courtesy of: Dezeen
---
– Photo credits: Sylvain Deleu
– via: visualnews.com
Dominic Wilcox – Stained Glass Driverless Sleeper Car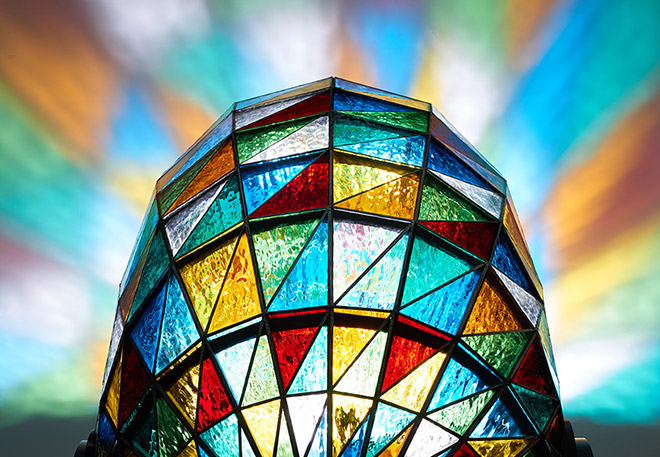 The illuminate shell.
---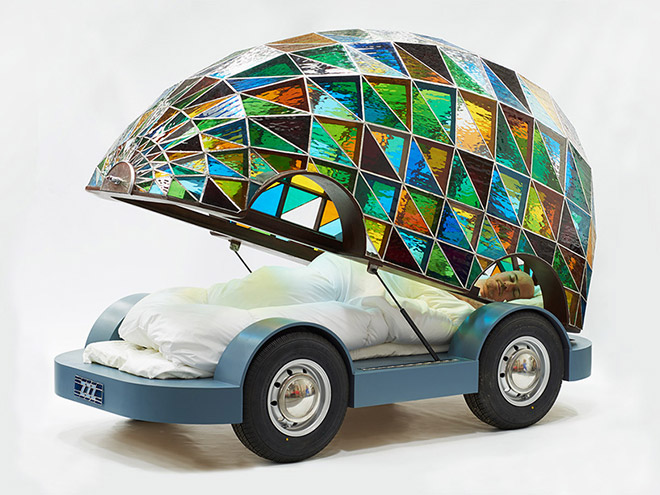 Dominic takes a nap ready for the journey ahead.
---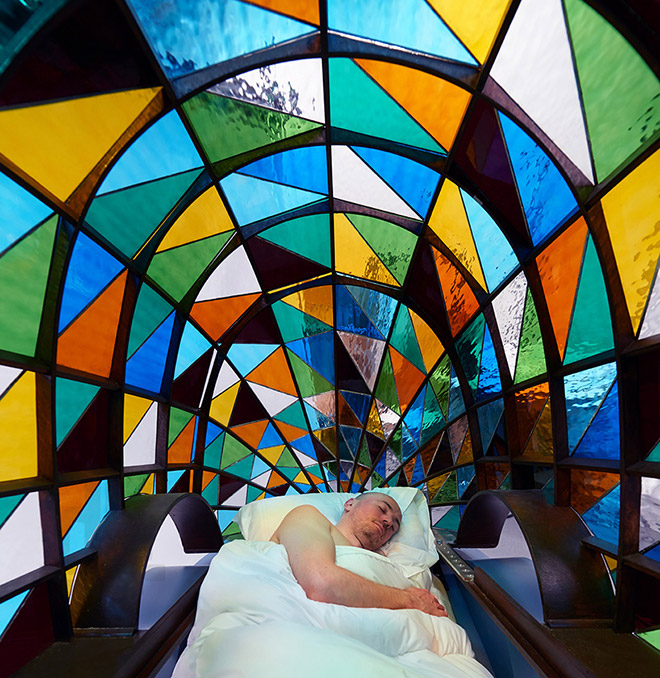 Dominic Wilcox sleeping in the stained glass driverless sleeper car.
---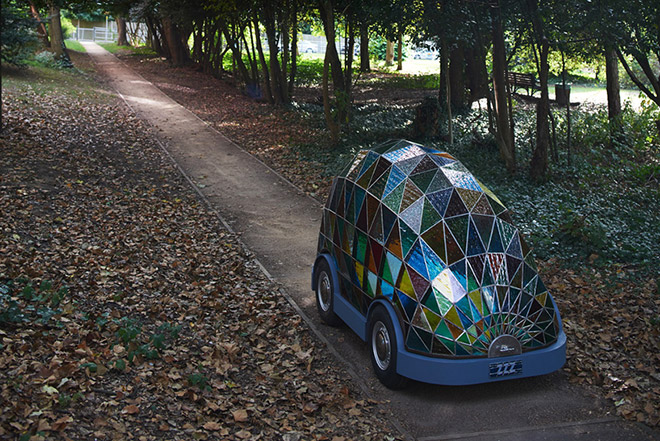 The glass car takes a sleeping passenger home.
---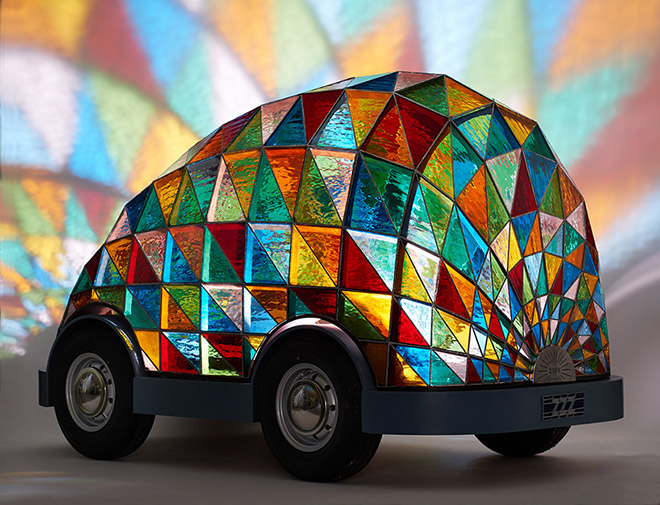 The rear
---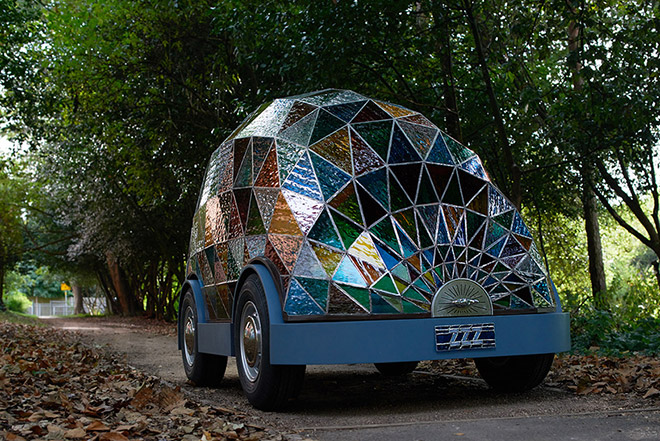 The empty glass car traveling to collect it's passenger who has called it.
---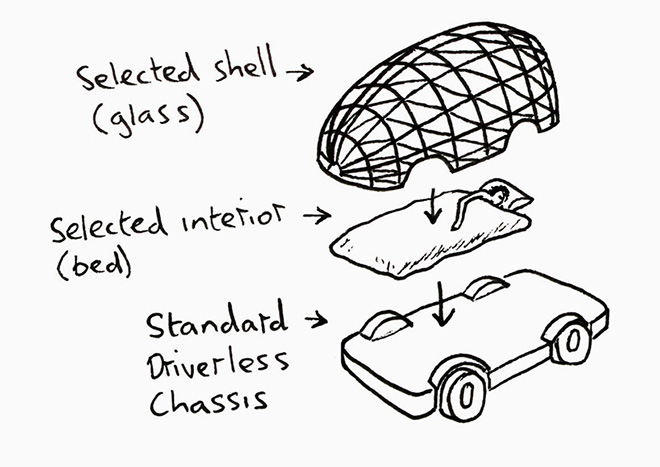 The concept of the technology held within a chassis base allowing any shell to be built on top with chosen interior.
---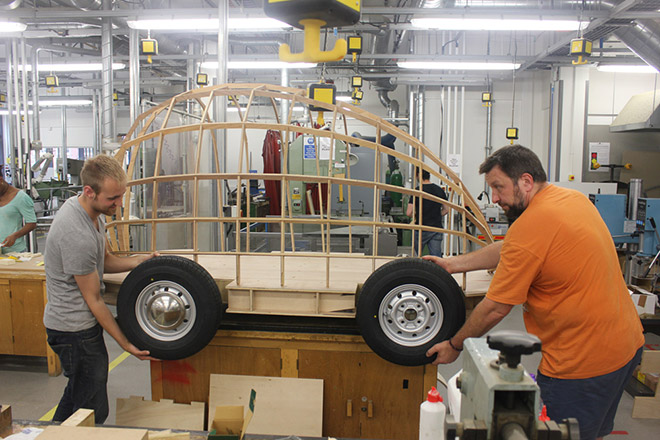 Dominic adding glass to the frame
---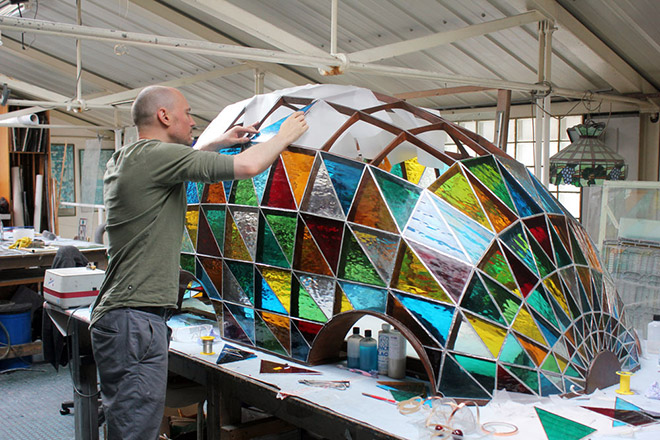 At Middlesex Univirsity Product design Department who assisted Dominic Wilcox with the car base and glass support structure.
Dominic Wilcox – Stained Glass Driverless Sleeper Car
Further reading:
– Dominic Wilcox website: Dominic Wilcox
– London Design Festival 2014: London Design Festival 2014
---