No Comments
The Palestinian Museum - In the Presence of the Holy See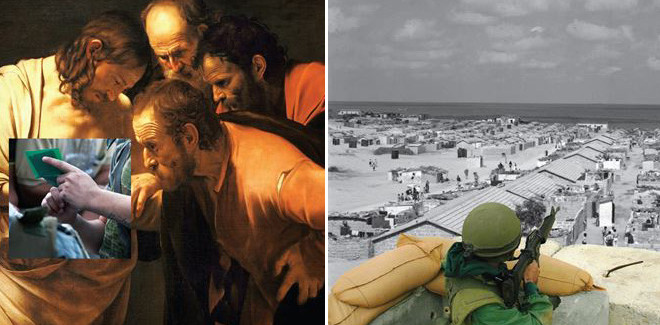 Redazione Art-Vibes | On 21, Mag 2015
Un mashup visivo tanto crudo quanto vero.
di Redazione Art Vibes
---
Gli attivisti del Museo della Palestina, in occasione della visita di Papa Francesco nel giugno dello scorso anno, hanno promosso un'interessante iniziativa volta a riflettere sulla situazione geopolitica attuale, e sul tema dell'identità come terra e popolo.
Le composizioni, autoesplicative, sono formate da due opere combinate tra loro. Stampe dell'archivio UNRWA sono mixate con fotografie attuali di rifugiati; poste le une accanto alle altre, si interrogano su come la vita dei rifugiati palestinesi sia cambiata o non sia riuscita a cambiare negli anni successivi alla loro espropriazione.
L'esilio e la perdita, da sempre temi dominanti del racconto palestinese dal 1948, sono combinati con dipinti barocchi occidentali di scene bibliche. Se i quadri interpretano episodi della vita di Cristo come mezzo per glorificare Dio e diffondere i suoi insegnamenti, le fotografie hanno ben poco da glorificare.
Le tele bibliche inscenano allegorie dei valori cristiani: carità, misericordia, compassione, e fede verso un Dio giusto e amorevole. C'è sofferenza e sacrificio, ma si mantiene viva la speranza della vita eterna. Ciò che le fotografie documentano è invece il quotidiano in una zona in perenne conflitto, frame da cui emerge una chiara assenza di compassione cristiana.
L'incongruenza delle immagini combinate è un importante richiamo alle ipocrisie che hanno spesso caratterizzato questo territorio. Due narrazioni asincrone del conflitto, ma un unico racconto della tensione tra i valori cristiani e la situazione di molti che professano questa fede del mondo.
Ci sembra giusto dare spazio a questa riflessione visiva, anche per veicolare il messaggio che solo attraverso il confronto e la capacità critica sia possibile instaurare un nuovo tipo di dialogo, sfruttando il l'arte e la creatività per risvegliare tante coscienze ormai da troppo tempo sopite o restie alla conoscenza della verità.
---
– photo courtesy of: unrwa.org – credits: © Jamal Arouri – © Alexandra Boulat – © M. Nasr – © Tanya Habjouqa – © Ahed Izhiman
– via: palmuseum.org
---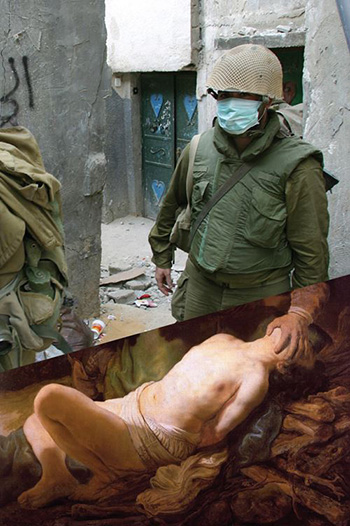 Abraham's Sacrifice – (c. 1635) – Rembrandt Harmenszoon van Rijn – photo: Israeli soldiers overwhelmed by the smell of dead bodies in Jenin refugee camp, West Bank. 16 Apr. 2002 by Alexandra Boulat
---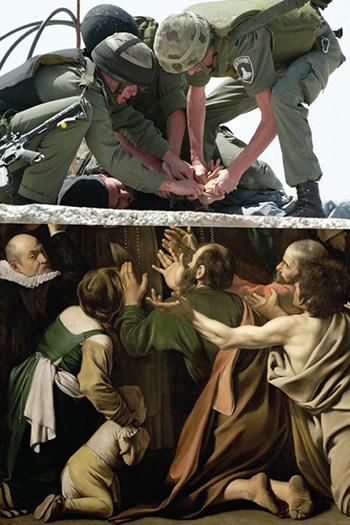 Madonna of the Rosary (c. 1607) – Michelangelo Merisi Caravaggio – photo: Israeli soldiers arresting a Palestinian on a roof during a protest against home demolition in Kharbatha bani Hareth, North of Bil'in. by Jamal Arouri
---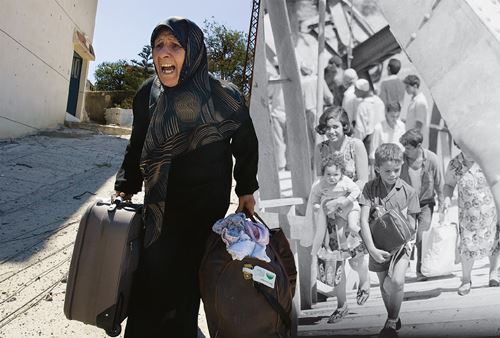 Palestinian refugees walking across Allenby Bridge on their way to Jordan, July 1967. Myrtle Winter – UNRWA photo archive. A woman runs terrified from her house in Bint Jbail during a "temporary cease fire" in South Lebanon during the Israeli led war of 2006. by Tanya Habjouqa
---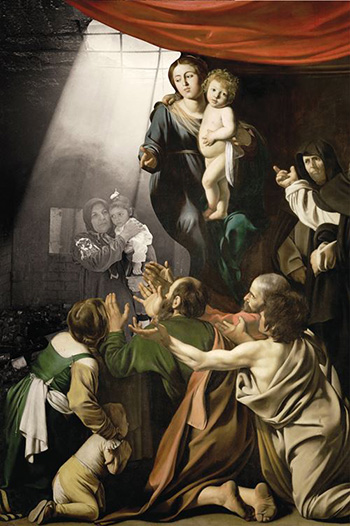 Madonna of the Rosary (c. 1607) – Michelangelo Merisi Caravaggio – photo: Sun is shining through what was once the roof of a Palestinian Refugee shelter in the Burj el-Barajneh camp, Lebanon 1993. by M. Nasr – UNRWA photo archive
---
Christ Falling on the Way to Calvary (c. 1516) – Raphaello Sanzio da Urbino – photo: Via Dolorosa, old city of Jerusalem. by Jamal Arouri
---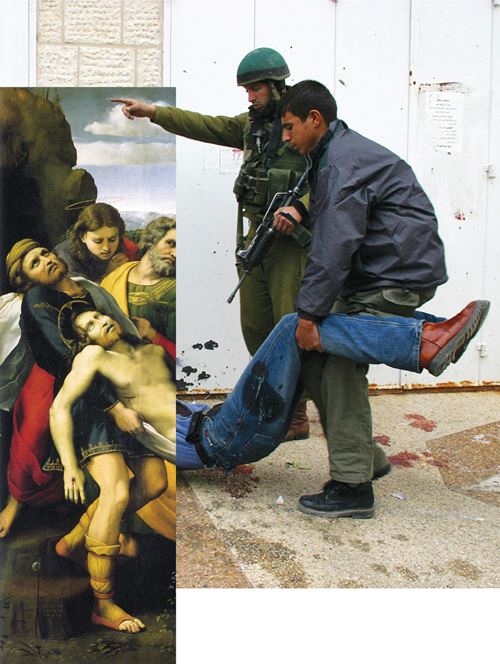 The Deposition (c. 1507) Raphaello Sanzio da Urbino – "In that day there will be great mourning in Jerusalem." Zechariah 12:11
photo: Israeli soldiers kill a Palestinian and detain others, downtown Ramallah. 31 Mar. 2002 by Alexandra Boulat.
---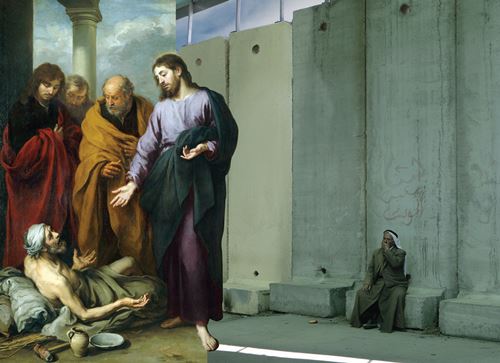 Christ healing the Paralytic at the Pool of Bethesda (c.1670) Bartolomé Esteban Murillo "Rise, take up your bed and walk." John 5:8 photo: A Palestinian passes into Gaza via the Erez checkpoint. 24 May 2006 by Alexandra Boulat
---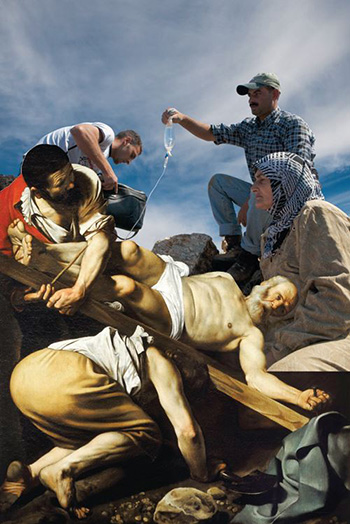 Crucifixion of Saint Peter (c. 1601) Michelangelo Merisi Caravaggio photo: Palestinian peasants attacked by Israeli settlers during olive harvest season in Salfit, West Bank. 25 Oct. 2006 by Alexandra Boulat
---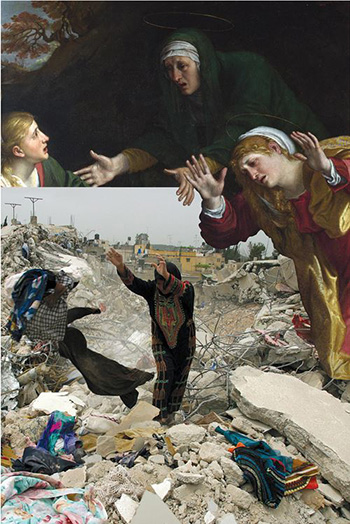 Lamentation of Christ ‭(‬c. 1606‭)‬ Annibale Carracci photo: First lifting of the curfew in Jenin refugee camp after the Israeli raid. 15 Apr. 2002 by Alexandra Boulat
---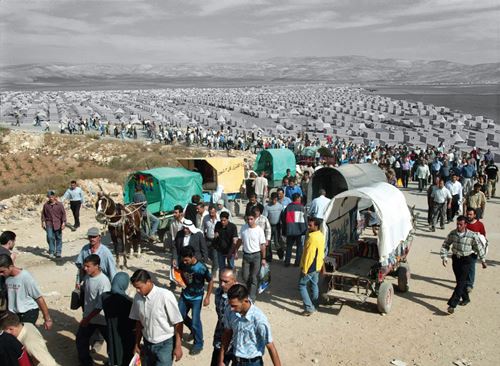 Baqa'a refugee camp, Jordan 1969. G. Nehemeh UNRWA photo archive . Birzeit road, as vehicles movement was blocked at Surda checkpoint, 2003. by Jamal Arouri
---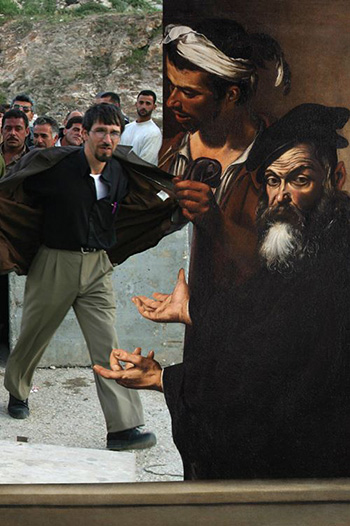 Ecce Homo (c. 1605) Michelangelo Merisi Caravaggio "Ecce homo!" John 19:5. photo: Palestinians crossing Qalandiya checkpoint on their way to Jerusalem. 20 Apr. 2002 by Alexandra Boulat
---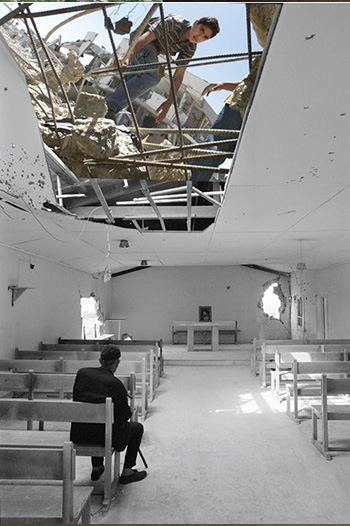 One of the few remaining refugees after the civil strife in Jisr el-Basha camp, passes a quiet moment in the partly damaged Pontifical Mission Church, Lebanon 1976. UNRWA photo archive . Palestinian Presidential Headquarters (al-Muqat'a), Ramallah 2002. by Jamal Arouri
---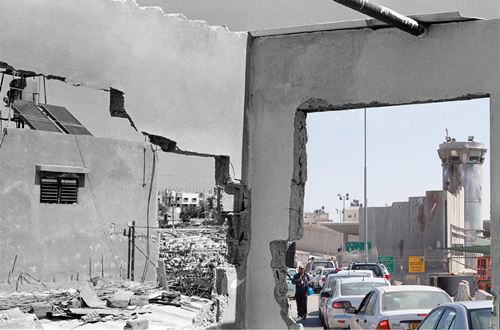 A partly demolished Palestinian house in Khan Younis, Gaza Strip 1989. Hashem Abu-Sido – UNRWA photo archive Qalandiya checkpoint 2013. by Ahed Izhiman
---
Further reading:
– Palestinian Museum website: palmuseum.org
---