No Comments
Doris Salcedo - La missione sociale dell'arte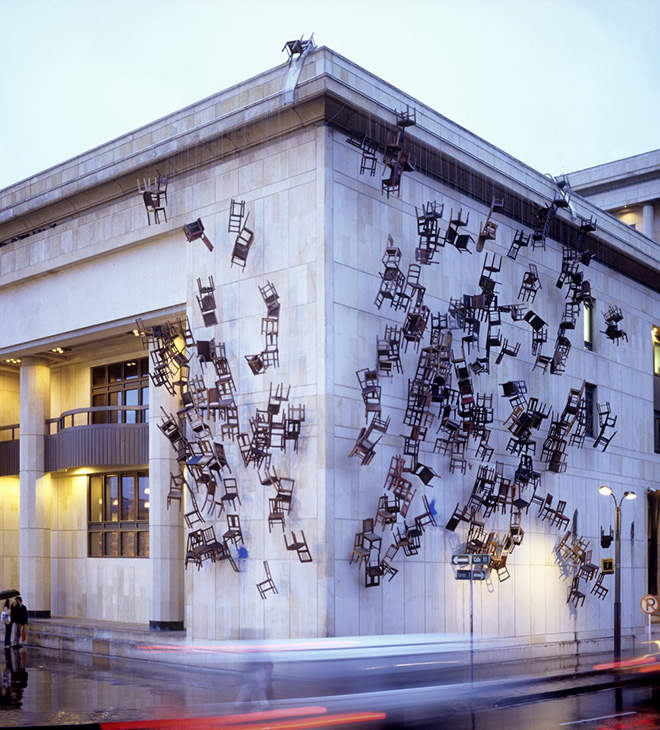 Redazione Art-Vibes | On 12, Feb 2015
Un'ampia retrospettiva sull'artista colombiana in mostra al MCA di Chicago.
di Redazione Art Vibes
---
Il Museo di Arte Contemporanea di Chicago presenta la prima retrospettiva sul lavoro dell'artista colombiana Doris Salcedo (Colombia, Bogotà 1958), una mostra che presenta il principale corpo di opere sviluppate nel corso della sua carriera trentennale.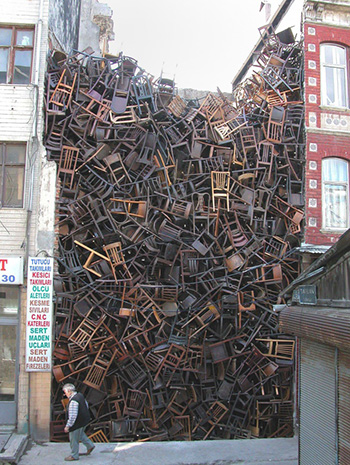 Doris SalcedoChair installation in Istanbul
---
I suoi lavori affondano le radici nel clima sociale e politico del suo paese, una lunga sequenza di conflitti civili, raccontati in modo sottile attraverso sculture e installazioni, un'eleganza e una sensibilità poetica che bilanciano la gravità dei temi indagati.
La sua arte si riflette in un rigoroso lavoro a contatto con le persone che hanno sperimentato una perdita o un trauma nella loro vita a causa della violenza politica.
Negli scorsi anni, la Salcedo ha creato installazioni site-specific in tutto il mondo, dalla Turchia all'Italia, dalla Gran Bretagna fino alla sua nativa Colombia, opere in grado di evocare il senso di un corpo mancante stimolando un senso collettivo di perdita.
Come non ricordare il suo intervento nella Turbine Hall della Tate Modern di Londra nel 2007, una spaccatura nel pavimento come un segno lasciato da un terremoto o ancora le installazioni che raggruppano enormi quantità di sedie accatastate in spazi angusti o distribuite su facciate di palazzi.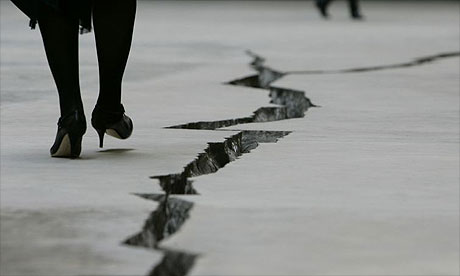 Doris Salcedo – Turbine Hall Tate – London
---
La mostra di Chicago si apre con una selezione dei suoi lavori più antichi fatti di arredi ospedalieri e pile di camicie bianche impalati da tondini di ferro. L'artista ricrea l'installazione originale così come in mostra a Bogotà nel 1990.
Altre installazioni importanti: "La Casa Viuda" (1993-1995), un gruppo di sculture realizzate principalmente da porte e altri mobili resi disfunzionali; "Atrabiliarios" (1992-2004), composta di scarpe usate, abbandonate all'interno delle pareti della galleria; "Plegaria Muda", un'installazione, mostrata per la prima volta negli Stati Uniti, comprensiva di tavoli, invertiti uno sopra l'altro, laddove tra gli interstizi fanno capolino fili d'erba; "Flor de Piel" (2014), un'enorme scultura di petali di rosa cuciti tra loro e l'inedito "Disremembered" (2014) un abito che evoca il corpo umano attraverso la sua assenza.
Le tappe successive della mostra saranno il Guggenheim di New York (26 Giugno – 14 Ottobre 2015) e il Pérez museum di Miami (6 Maggio – 23 Ottobre 2015).
---
– via: mcachicago.org
– photo courtesy of: MCA Chicago
Doris Salcedo – Museum of Contemporary Art of Chicago
Doris Salcedo – Museum of Contemporary Art of Chicago
Exhibition info:
– Doris Salcedo – Museum of Contemporary Art of Chicago
– When: 21 Febbraio – 24 Maggio 2015.
– Where: MCA, Museum of Contemporary Arts of Chicago, 220 East Chicago Ave, Chicago, IL 60611.
---
Further reading:
– MCA of Chicago: mcachicago.org
---