No Comments
AMADAMA - The Equalizer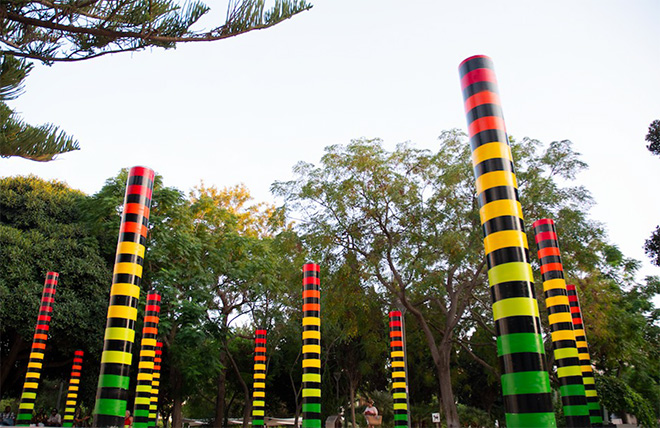 Redazione Art-Vibes | On 09, Ott 2019
BLOOP Festival, Ibiza: un'installazione di arte pubblica che omaggia lo spirito dance dell'isola bianca.
di Redazione Art Vibes
---
Picture: AMADAMA – The Equalizer, BLOOP Festival, OpenAir.Gallery, Ibiza, 2019. Photo credit: Biokip.
---
Ad Ibiza la nona edizione del BLOOP Festival continua a regalare nuovi pezzi di arte urbana. Da segnalare l'installazione che porta la firma di Amadama, un'opera che ha trasformato una serie anonima di colonne bianche di varie dimensioni in equalizzatori audio dai colori vivaci.
The Equalizer, questo il titolo dell'installazione che ora colora il Parque de la Paz, sembra riunire metaforicamente in un unico luogo il mix di energie dance che per anni hanno contraddistinto l'isola bianca.
"Ho amato Ibiza quando il concetto di festa si respirava ovunque, le persone si mescolavano avvolte da un forte desiderio di divertimento. Negli anni la musica è cambiata in tutti i sensi, l'atmosfera individualista ha iniziato a diffondersi no solo tra la gente ma anche tra i DJ.
Oggi più che Dj si vedono ballerini che indossano le cuffie per guadagnare, assunti più per l'elevato numero di follower che per la qualità del loro lavoro. L'equalizzatore nel parco è un omaggio al ricordo della vera festa e della vera musica. Le colonne ora sprizzano colori, la gente si ferma a guardarle e a scattare fotografie. Insomma The party will never end."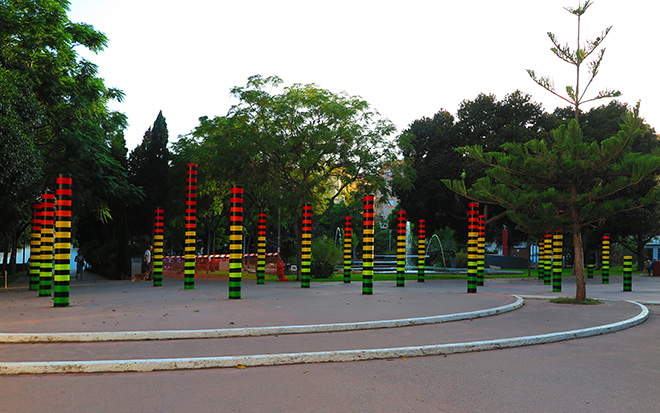 AMADAMA – The Equalizer, BLOOP Festival, OpenAir.Gallery, Ibiza, 2019. Photo credit: Biokip
---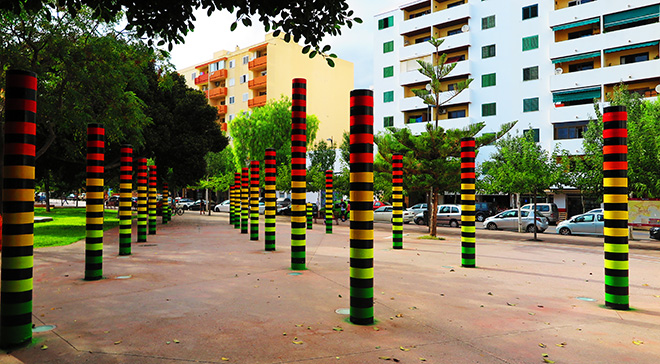 AMADAMA – The Equalizer, BLOOP Festival, OpenAir.Gallery, Ibiza, 2019. Photo credit: Biokip
---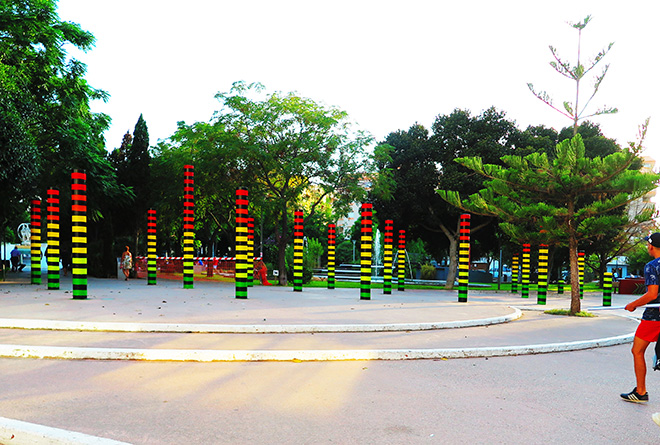 AMADAMA – The Equalizer, BLOOP Festival, OpenAir.Gallery, Ibiza, 2019. Photo credit: Biokip
---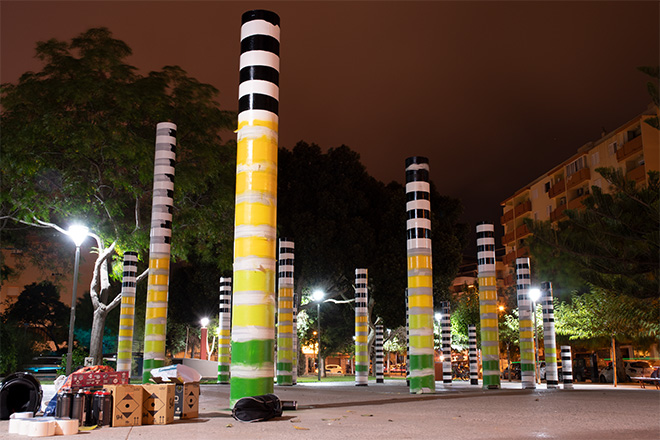 AMADAMA – The Equalizer (work in progress), BLOOP Festival, OpenAir.Gallery, Ibiza, 2019. Photo credit: Izhar Mera
---
– via: Art Vibes submission
---
– website: bloop-festival.com
---