No Comments
Pichi & Avo - Cupid with bow, Wonderwalls, Port Adelaide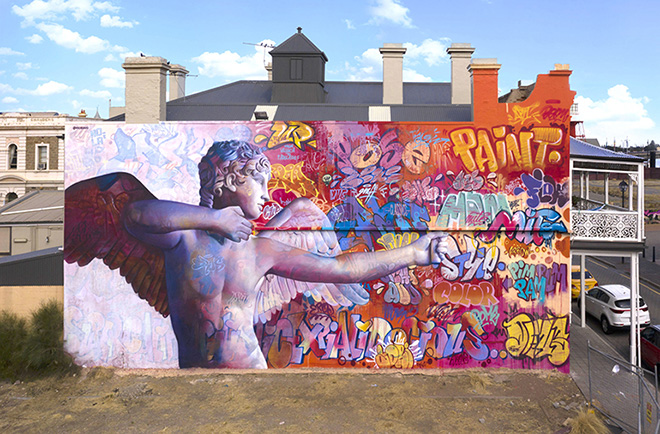 Redazione Art-Vibes | On 20, Apr 2020
Un potente dialogo tra classico e contemporaneo: l'opera murale del duo spagnolo per Wonderwalls Festival.
di Redazione Art Vibes
---
Picture: Pichi & Avo – Cupid with bow, Wonderwalls, Port Adelaide (Menpes Street), Australia. photo credit: Vans the Omega
---
Dopo avervi mostrato il murale di Vesod realizzato ad Adelaide per la rassegna Wonderwalls, oggi vi presentiamo l'opera del duo spagnolo Pichi & Avo, portata a termine in quel di Menpes Street, sempre nel distretto portuale della città australiana.
Il muro (9 x 17 metri) raffigura la scultura "Cupid with bow (Cupido con l'arco)" dello scultore francese François-Joseph Bosio, (opera conservata all'Hermitage Museum di Mosca), in dialogo con tutta una serie di graffiti che ammaliano per colori e lettering vivaci.
Ancora una volta ciò che colpisce è come la potenza del linguaggio classico venga deostruita e trascinata in una dimensione contemporanea, un ossimoro visivo che intriga ed affascina.
Molto interessante lo sfruttamento di un elemento architettonico preesistente, quel condotto che divide la superficie murale esattamente in due parti ed idealmente simboleggia la freccia di Cupido.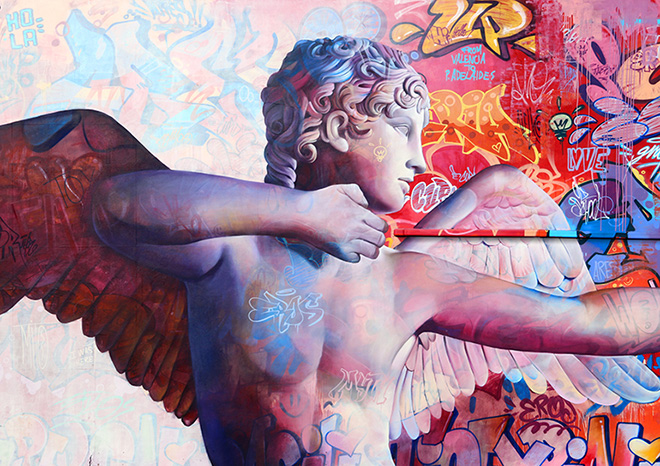 Pichi & Avo – Cupid with bow, Wonderwalls, Port Adelaide (Menpes Street), Australia. photo credit: Vans the Omega
---
– via: pichiavo.com – photo courtesy of: Pichi & Avo; credits: Vans the Omega
---
– website: facebook.com/wonderwallsportadelaide/
---