No Comments
Banksy - Non solo street art a Calais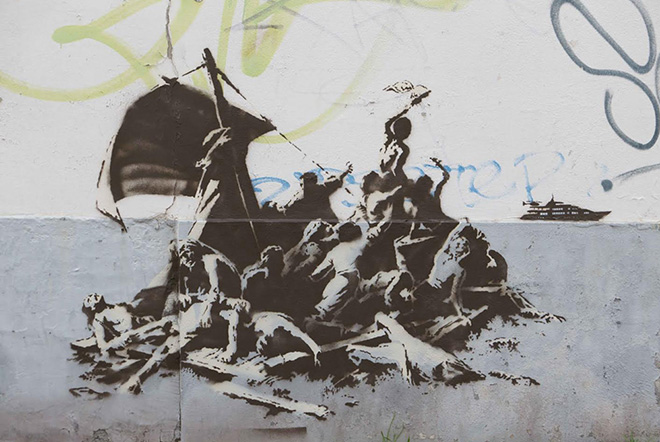 Redazione Art-Vibes | On 14, Dic 2015
Creatività e solidarietà nel campo profughi di Calais.
di Redazione Art Vibes
---
– Picture: Calais Town centre, We're not all in the same boat. A contemporary version of The Raft of the Medusa by Théodore Géricault
---
Banksy è tornato, proponendo nuovi lavori nei quali interpreta il dramma dei migranti siriani. Per realizzare le sue nuove opere ha scelto la cittadina di Calais, nota perché sede di un grande campo per rifugiati, che viene soprannominato "la giungla", oggi abitato da circa 7.000 profughi.
In uno dei suoi pezzi più provocatori ha ritratto Steve Jobs con zaino in spalla e un computer in mano, ricordando che l'uomo che ha regalato al modo alcune delle più grandi innovazioni tecnologiche era il figlio di un migrante siriano, arrivato negli Stati Uniti dopo la seconda guerra mondiale.
In aggiunta ai nuovi lavori il team di Banksy ha dato vita al progetto Dismal Aid.
Quando Dismaland ha chiuso le sue porte il genio di Bristol e il suo entourage hanno deciso di riciclare molti dei materiali utilizzati trasferendoli nel Campo di Calais, dove sono serviti per realizzare 12 dimore e un piccolo parco giochi di fortuna per i più piccoli.
L'artista inglese non smette mai di sorprenderci abbinando ad un estro creativo fuori dal comune una generosità non da tutti.
---
– via: banksy.co.uk
– photo courtesy & credits: © Banksy – Dismal Aid
Non solo street art a Calais
Steve Jobs
---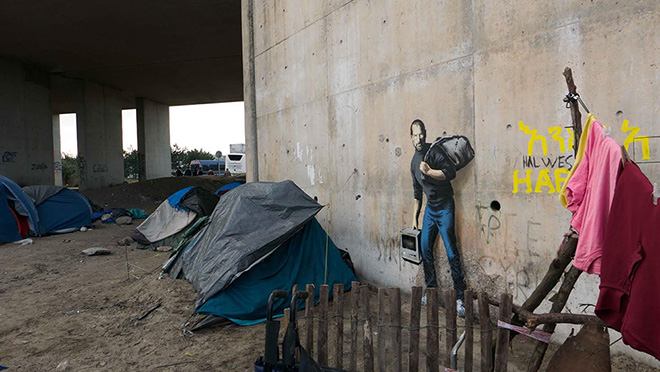 The Jungle refugee camp, Calais
---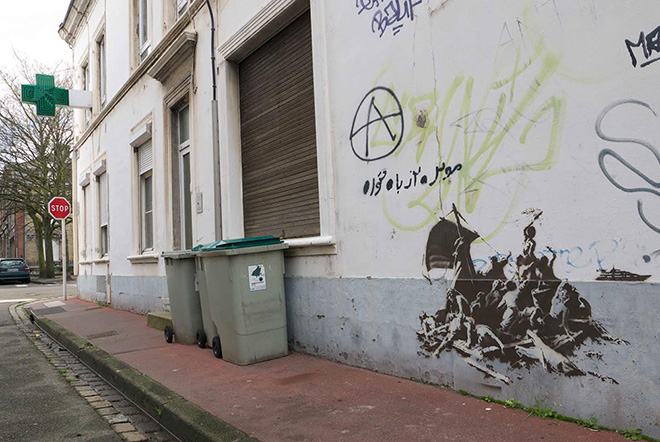 Calais Town centre, We're not all in the same boat.
---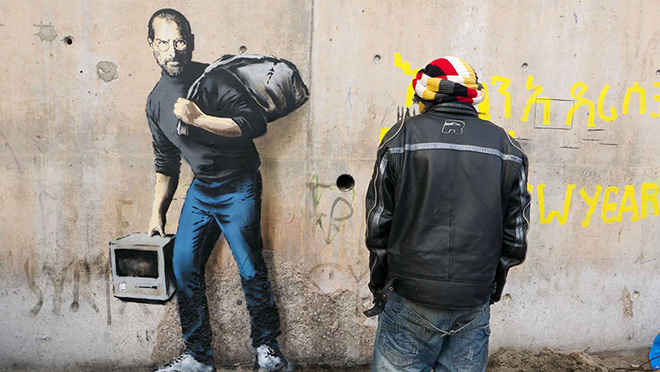 Banksy – The son of a migrant from Syria
---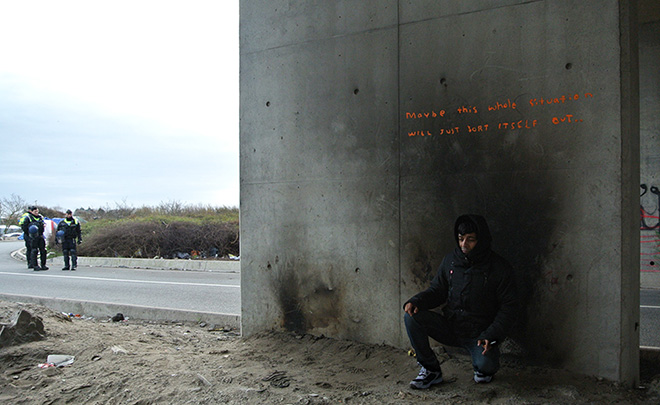 The Jungle refugee camp, Calais
---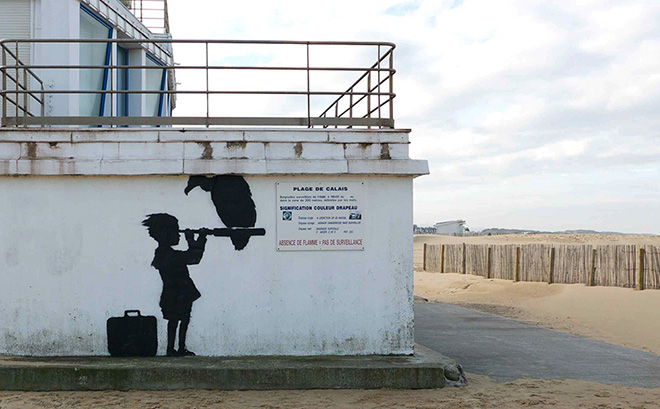 Street art, Calais
---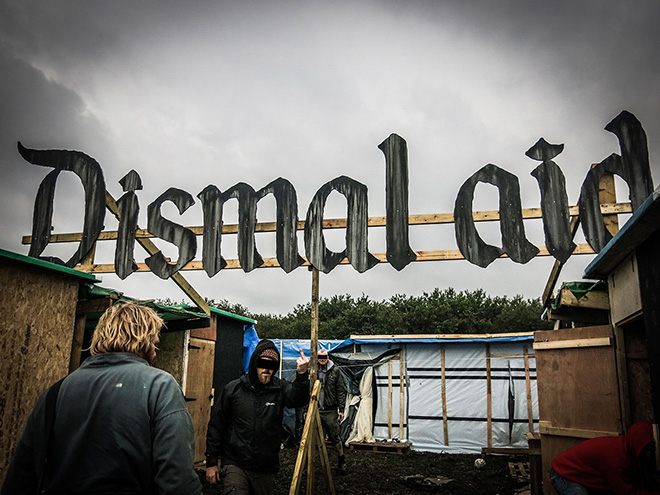 Dismal Aid, Calais
---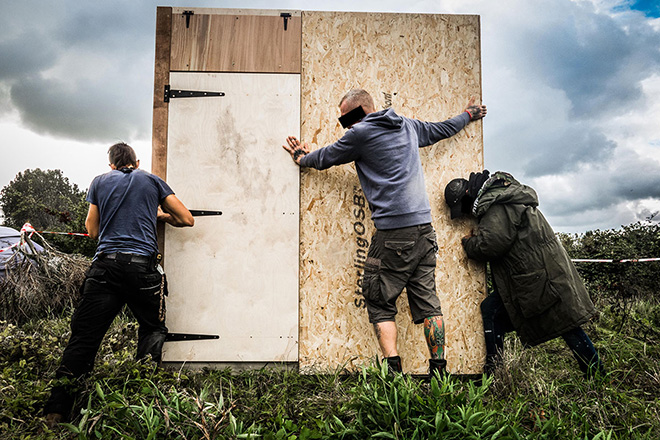 Dismal Aid, Calais
---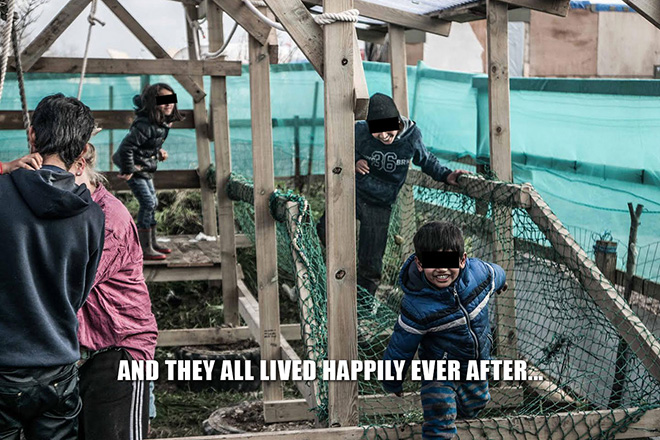 Dismal Aid, Calais
Non solo street art a Calais
Further reading:
– Artist website: banksy.co.uk
---