No Comments
Eyes Wide Open - SIPA 2018: la grande fotografia a Siena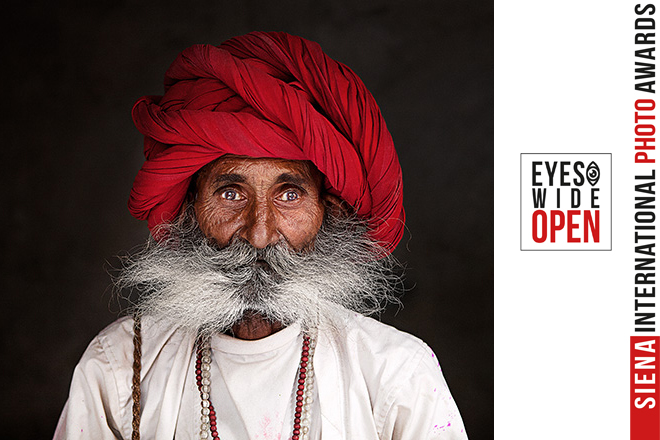 Redazione Art-Vibes | On 25, Ott 2018
Siena International Photo Awards Festival: un'esposizione diffusa, una mostra per le vie della città che celebra la grande fotografia mondiale sugli spazi di affissione.
di Redazione Art Vibes
---
Occhi aperti, anzi spalancati sulla grande fotografia a Siena. È 'Eyes Wide Open': la prima grande mostra a cielo aperto, promossa da Simply Etruria Retail, che contamina gli spazi pubblicitari con l'arte fotografica della IV edizione del Siena International Photo Awards Festival.
Da lunedì 29 ottobre e fino a domenica 11 novembre i manifesti di Siena si trasformano in una grande esposizione diffusa con protagoniste 28 fotografie di grandi dimensioni del Sipa. La singolare mostra che occuperà gli spazi solitamente dedicati alle promozioni accoglierà alcune delle oltre 48 mila immagini che hanno partecipato all'edizione 2018 di uno dei concorsi di fotografia più partecipati a livello internazionale.
'Eyes Wide Open' è una mostra all'aperto, che sfrutta gli spazi di affissione che normalmente Simply Etruria Retail riserva alla sua comunicazione pubblicitaria, per raccontare il mondo della fotografia attraverso gli occhi e la sensibilità degli oltre 20 fotografi selezionati e provenienti da ben 156 Paesi di tutto il mondo.
Per la prima volta il percorso espositivo, distribuito dal centro alla periferia della città, raccoglie gli scatti di fotografi professionisti, dilettanti e amatori divisi nelle 10 categorie tematiche: libero colore; libero monochrome; viaggi & avventure; persone e volti accattivanti; la bellezza della natura; animali nel loro ambiente naturale; architettura e spazi urbani; sport in azione; portfolio storytelling e schizzi di colore.
Siena International Photo Awards – Official Trailer 2018. video courtesy of: Siena International Photo Awards
---
A spasso tra civiltà, usi e popoli antichi. La mostra sarà un vero e proprio giro del mondo attraverso le immagini. Dalle istantanee dei Iupiat, i nativi dell'Alaska, la cui cultura si è sviluppata attorno alla pratica della caccia alle balene, ritratti di Kiliii Yuyan; fino al racconto della grande migrazione degli gnu e delle zebre nel fiume Mara in Africa, immortalate dall'obiettivo di Anup Shah.
Colorati e originali sono gli scatti di Tariq Zaidi che ha catturato l'originalità degli abitanti di Kinshasa e Brazzaville nella Repubblica Democratica del Congo che interpretano la moda indossando i panni di insoliti dandy urbani.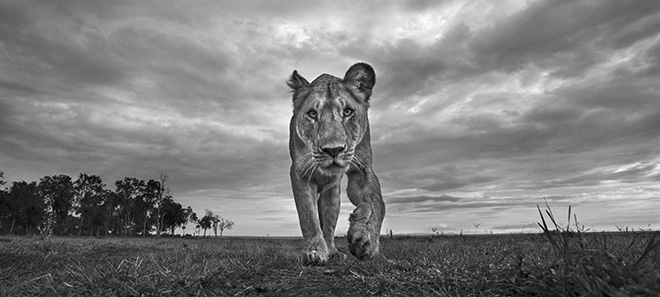 ©Anup Shah – The Crossing, Eyes Wide Open, Siena International Photo Awards 2018. (The great migration of the wildebeests and zebras is hazardous. Apart from the toll taken by predators, exhaustion, disease and poaching, the biggest threat comes from crossing the Mara River. Here lie crocodiles. The river bed is uneven and panic crossings resulting in pile-ups on rocks can cause broken legs. Many die courtesy of crocodiles, currents, tramplings, exhaustion and separation of calves from mothers. But it's not over. Predators lie in wait for the survivors of the river crossing, yet nothing deters the migratory urge. Animals move on.)
---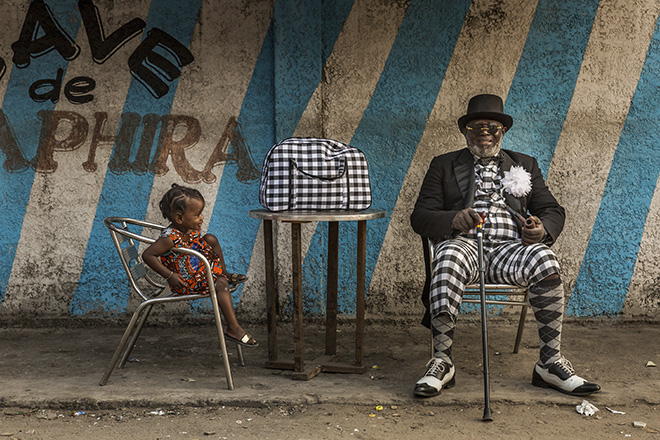 ©Tariq Zaidi – The Sapeurs of Brazzaville, Eyes Wide Open, Siena International Photo Awards 2018. (La Sape, Société des Ambianceurs et des Personnes Élégantes (Society of Ambient Makers & Elegant People) is a fashion subculture in the cities of Kinshasa (DRC) & Brazzaville (Republic of the Congo). Someone who follows La Sape is known as a Sapeur. Most have ordinary day jobs as taxi-drivers, tailors and gardeners, but as soon as they clock out they transform themselves into debonair dandies. Sashaying through the streets, they are treated like rock stars-turning heads, bringing 'joie de vivre' to their communities and defying their circumstances).
---
In mostra anche le foto di Asger Ladefoged, che ha raccontato la fuga dei Rohingya, minoranza musulmana cacciata violentemente dalle proprie case e costretta alla fuga da quando nel 1948, il Myanmar buddista ha ottenuto l'indipendenza e i leader militari del paese hanno negato la cittadinanza a oltre un milione di Rohingya.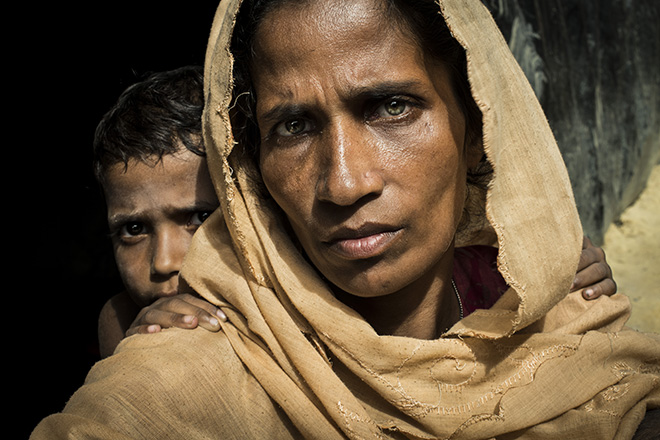 ©Asger Ladefoged – If we go back they will kill us. Eyes Wide Open, Siena International Photo Awards 2018. (Since the end of August 2017 more than 630.000 Rohingya's has fled Myanmar because of warlike conditions that forced people away from their homes. Rape, killings and villages burned down, harassed and exiled the muslim minority in the province of Rakhine in Northeastern Myanmar – also known as Burma.
Since 1948 where Buddhist Myanmar gained independence, the military leaders of the country has denied citizenship to the 1 million Rohingyas, that have lived in Myanmar for centuries. They have been a people without rights ever since.
Before the current influx more than 300.000 Rohingyas had already fled across the border which now makes the area in south east Bangladesh the worlds biggest refugee camp).
---
Ha testimoniato la bellezza incontaminata della Costa africana dello Swahili l'obiettivo di Gilles Nicolet che si è soffermato sui pescatori che, per secoli, hanno solcato i mari per la pesca. Mentre si è concentrato, sullo sguardo di uno degli abitanti nomadi della regione di Sonamarg, nel Kashmir, il fotografo Mahmoud Yakut che mette in primo piano il volto dell'uomo le cui dure caratteristiche facciali e l'aspetto nitido sembrano confondersi con le aspre cime delle montagne sullo sfondo.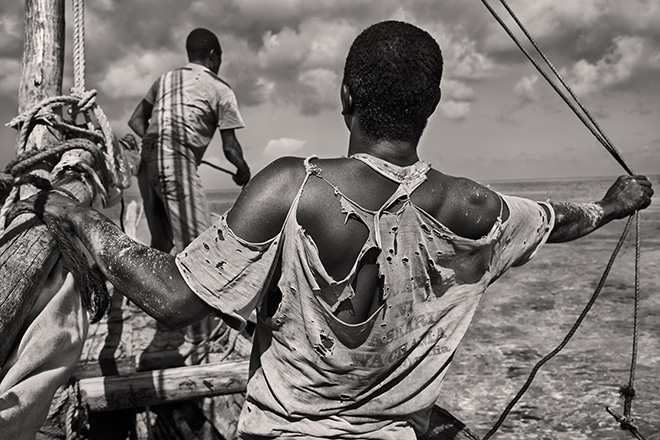 ©Gilles Nicolet – Six Degrees South, Eyes Wide Open, Siena International Photo Awards 2018. (The Swahili Coast is a unique physical, historic and cultural entity. For centuries now, dhows have sailed these shores, using the monsoon winds to help traders move goods between continents, while fishermen have plowed the seas for their bounty of fish, all contributing to the emergence of rich city-ports like Lamu and Stone Town. But all of this is changing now. Overfishing by local and foreign ships, an increase in population, changes in weather patterns, as well as the recent discovery of huge gas fields are threatening this fragile equilibrium. We might be witnessing the last fishing and sailing traditions which had remained largely unchanged for thousands of years.
With this work, I have tried to testify to the unique beauty of the Swahili Coast and to record it for the generations to come.)
---
Il tour fotografico fa tappa anche in Cina, dove ci porta l'immagine di Qiang Chen, che ha colto lo sguardo di un'anziana signora di Sichuan mentre fuma.
Scava nei sentimenti delle persone la foto di Zhonghua Yang che racconta il senso profondo della condivisione, mettendo in primo piano tutta la complicità di una coppia di sorridenti 'vecchietti' che si dividono le cuffie del proprio smartphone.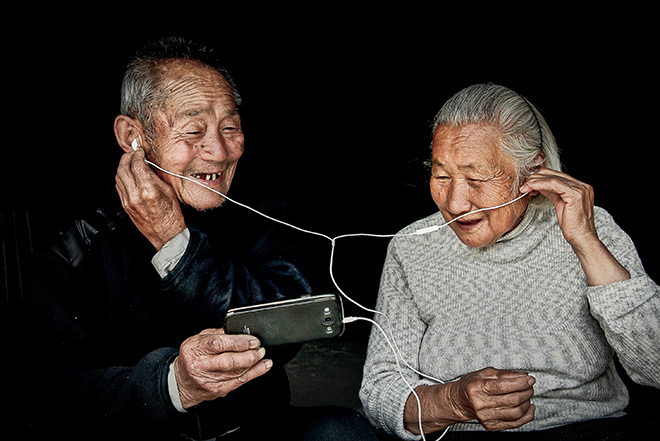 ©Zhonghua Yang – Share, Eyes Wide Open, Siena International Photo Awards 2018
---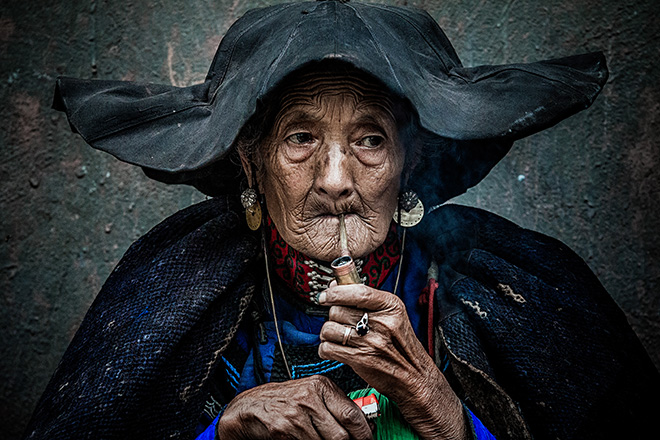 ©Qiang Chen – Smoking an old woman, Eyes Wide Open, Siena International Photo Awards 2018. (An old smoking Yi woman in Sichuan, China.An old smoking Yi woman in Sichuan, China).
---
---
Tutta la forza della natura. Anche gli animali saranno protagonisti della mostra sui cartelloni pubblicitari di Siena. Si potrà ammirare l'originale scatto della tartaruga marina di Greg Lecoeur, o il coccodrillo americano che vive all'interno dell'arcipelago dei Giardini della Regina tra le mangrovie, ritratto da Massimiliano Giorgetta e ancora lo squalo balena di Gibuti, un angolo di Africa ancora tutto da scoprire, che grazie allo scatto di David Robinson viene portato alla luce.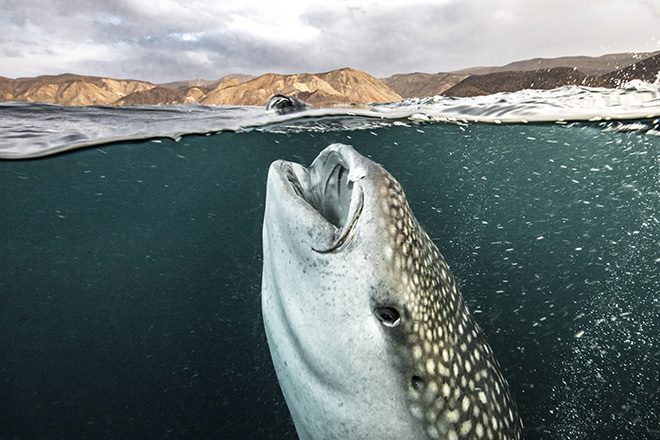 ©David Robinson – Shark and Mountains, Eyes Wide Open, Siena International Photo Awards 2018. (During the Djibouti winter, juvenile male whale sharks aggregate to feed on plankton in the shallow coastal waters. If the plankton is dense enough, the shark will feed vertically in the water, sucking the plankton into its mouth. Here I managed to capture a split-level shot of a juvenile whale shark vertical feeding together with an unusual cloudy sky and mountainous Djibouti landscape).
---
E ancora farà bella mostra di sé il pesce pagliaccio, reso ormai famosissimo dal film Nemo, che Matteo Visconti fa emergere dalle acque giapponesi. Racconta sempre l'universo animale lo scatto di Manoj Shah che mette in primo piano la felicità di uno gnu, che attraversa in tutta fretta il fiume Mara, infestato dai coccodrilli raggiungendo la sponda opposta e salvandosi così la vita.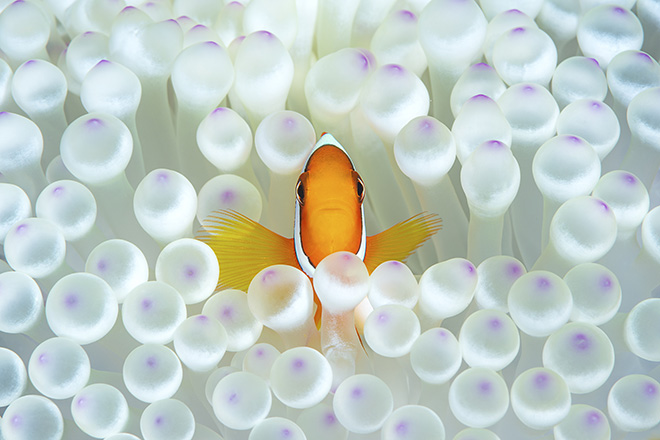 ©Matteo Visconti – Nemo in the house, Eyes Wide Open, Siena International Photo Awards 2018. (un comune pesce pagliaccio reso ormai famosissimo dal film nemo. esemplare ancora giovane che vive in simbiosi nel suo anemone, questo in particolare ha una colorazione bianca spesso vista in queste acque giapponesi).
---
Gesti sportivi insoliti e reportage di luoghi dimenticati. Guarda a una gara sportiva in maniera insolita lo scatto di Martina Meoli che coglie, da un'altra prospettiva, il salto agli ostacoli.
Cattura la velocità di un criceto, invece, la fotografia di Christoph Kaula, che mette in scena il simpatico e piccolo animaletto che si affretta a tornare nella sua tana per conservare il cibo.
L'esposizione torna ad accendere i riflettori sui temi sociali come la guerra in Ucraina, un conflitto invisibile di cui nessuno sembra accorgersi e che si combatte tra l'esercito governativo di Kiev e le milizie filorusse, grazie al reportage del fotoreporter romano Giorgio Bianchi, che nei suoi cinque viaggi in Donbass, regione dell'Ucraina orientale, è riuscito a catturare l'umanità e la vita che continua a prescindere e nonostante il conflitto.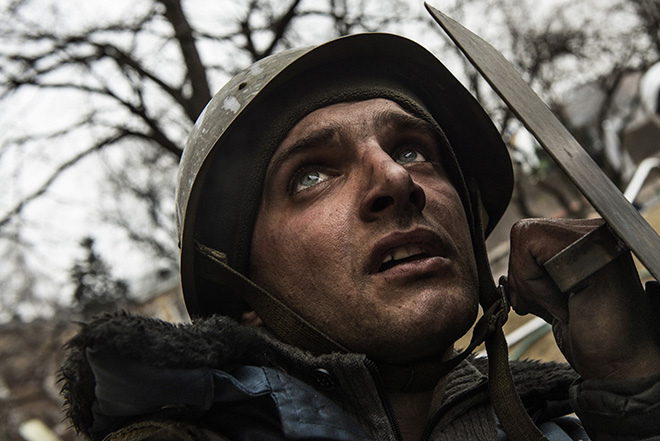 ©Giorgio Bianchi – Behind Kiev's barricades, Eyes Wide Open, Siena International Photo Awards 2018. (On february 20th 2014, snipers open fire on disarmed protesters as they was advancing on Instituska street. According to an official source, 70 protesters were shot dead by snipers.A young anti-government protester seeks shelter behind his shield).
---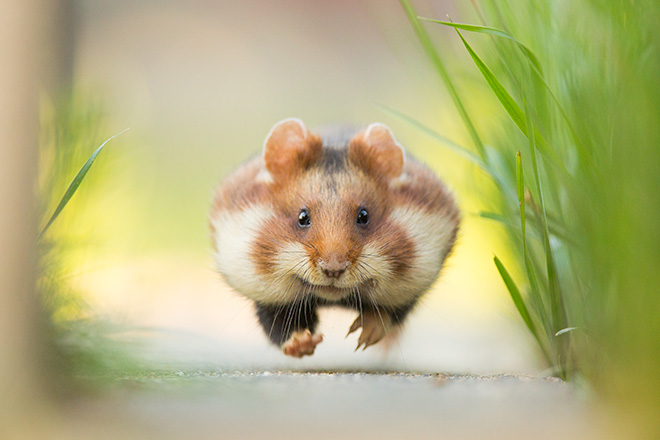 ©Christoph Kaula – Run!, Eyes Wide Open, Siena International Photo Awards 2018. (After harvesting the surrounding this wild european hamster ran full speed back to his den to cache the food).
---
Racconta uno dei simboli dell'orgoglio del Rajasthan il ritratto dell'uomo con il turbante rosso, scattato da Francesca Salice durante il festival dell'oppio in un villaggio indiano. Si sofferma sulla tragedia degli elefanti brutalmente uccisi a Nairobi lo sguardo di Manoj Shah che cattura con la sua videocamera i pochi sopravvissuti alla caccia all'avorio.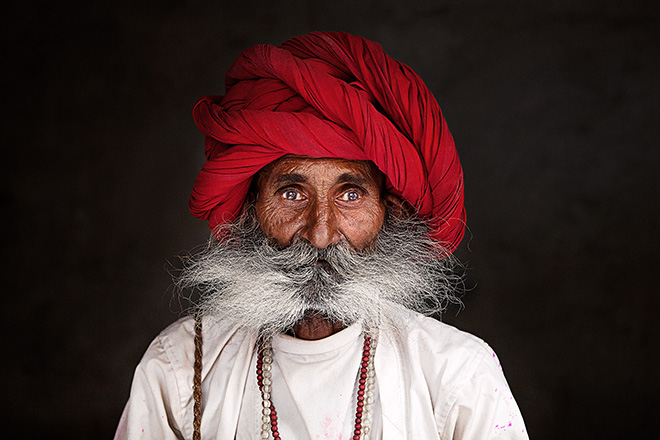 ©Francesca Salice – The red turbant, Eyes Wide Open, Siena International Photo Awards 2018. (This portrait was taken during the Opium Festival in a Rajasthan Village).
---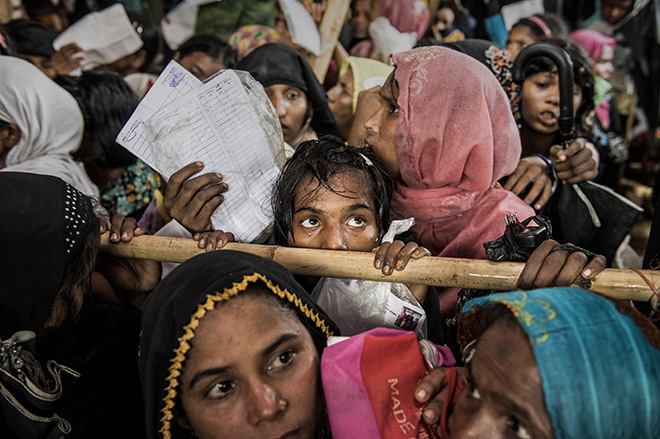 ©Asger Ladefoged – If we go back they will kill us. Eyes Wide Open, Siena International Photo Awards 2018
---
– via: Art Vibes submission – photo via: robespierreonline.it
---
– Exhibition info: Eyes Wide Open, Siena International Photo Awards Festival.
– When: 29 ottobre – 11 novembre 2018.
– Where: Siena, sedi espositive in tutta la città.
---
– website: sipacontest.com
---