No Comments
Daniel Skwarna - Desert Dweller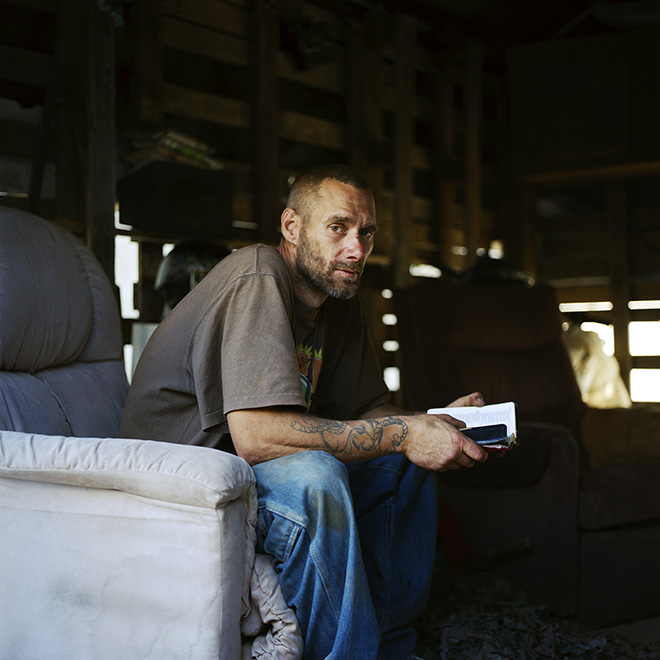 Redazione Art-Vibes | On 01, Feb 2021
Libertà, eccessi, utopia: uno sguardo sul bizzarro villaggio di "Slab City", un non luogo dove la libertà ha un prezzo.
di Redazione Art Vibes
---
Picture: ©Daniel Skwarna – Desert Dweller (Frank with his rice paper Bible). Frank spent most of his time on the water as a commercial fisherman. The son of an addict mother, he suffers from serious mental health challenges and suicidal thoughts. Sadly he passed away shortly after I made this portrait.
---
Slab City è un posto fuori dal mondo, uno schiaffo alla vita ordinaria, un vento di ribellione che soffia rovente nel deserto della California meridionale. Un accampamento che sorge sui ruderi di Camp Dunlap, base marina della Seconda Guerra Mondiale attivata nel 1942 come campo di addestramento per le azioni in Nord Africa.
La base forniva altresì aree di addestramento per le truppe dell'esercito sotto il generale Patton e un'area di sosta per piccoli gruppi di marines. Fu disattivata nel 1945, quando il terreno fu restituito allo Stato: da allora sono rimaste solo le fondamenta in lastre di cemento a galleggiare su sabbie mobili riarse.
Da decenni gli abitanti si spostano come la sabbia: costruire, demolire, riutilizzare, sopravvivere, morire. La popolazione durante tutto l'anno è modesta, solo una cinquantina di unità resiste ai mesi più caldi, quando le temperature sono così proibitive da costringere i serpenti a sonagli a cercare l'ombra per non soccombere.
Molti di loro sono SSI, SSDI o semplicemente versano in cattive condizioni economiche. Si definiscono pionieri, americani moderni che rivendicano i loro diritti, una società ruspante di gente selvaggia che occupa un pezzo di deserto nel sud della California.
Molti sono transitori, arrivano per il caldo in inverno. Alcuni cercano l'anonimato, altri accorrono per rinunciare la rincorsa al successo: veterani di guerra, religiosi, artisti, filosofi, hippy, musicisti, meth, tossicodipendenti, le categorie di appartenenza sono molteplici.
Pochi di loro godono delle comodità che diamo tutti per scontate. Non c'è acqua potabile gratuita, nessun rubinetto da aprire. Gli "Slabbers" possono filtrare le acque del canale East High Line o rifornirsi direttamente dal canale Coachella.
La spazzatura viene conservata per un futuro riutilizzo o scaricata per mancanza di raccolta municipale. I pannelli solari e le batterie a ciclo profondo forniscono energia per far funzionare ventilatori e refrigeratori di palude nei mesi più caldi. I servizi igienico-sanitari variano da camper a camper. A ciascuno il suo. Vivere liberi ha un prezzo.
Le storie di alcuni "Slabbers" sono state catturate dall'obiettivo di Daniel Skwarna, fotografo documentarista ed editoriale, autore di una meravigliosa serie sul tema dal titolo Desert Dweller. La serie in questione è anche protagonista della prossima esibizione online organizzata da All About Photo e curata da Sandrine Hermand-Grisel.
©Daniel Skwarna – Desert Dweller (Spirit Tae Cuddling Bacon Bits).
Spirit Tae shares a tender moment with her duck, Bacon Bits. She lives with her duck and two dogs in a Honda SUV that she parks in isolated areas of the Slab City desert. Afraid for her safety, plagued by mental health challenges, and deeply paranoid of other Slabbers, she tries to live alone and away from others.

---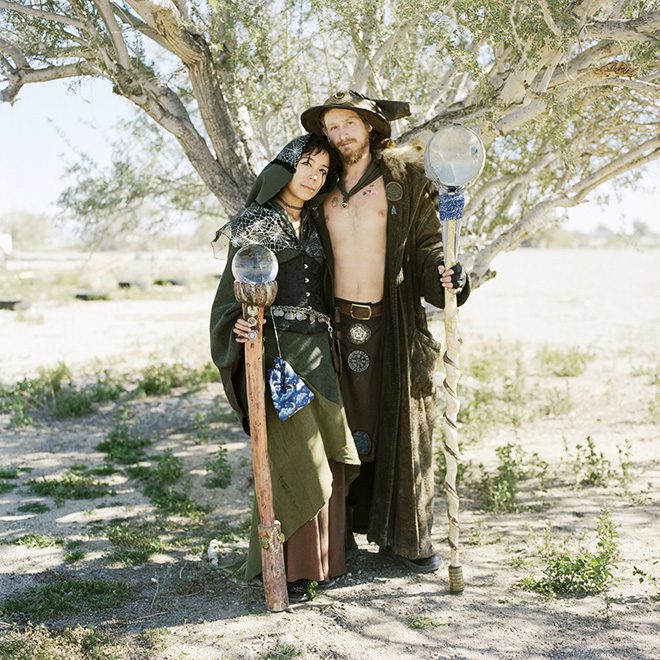 ©Daniel Skwarna – Desert Dweller (Shen and Merlin)
Shen (left) and Merlin (right) consider themselves Warlocks and dress this way permanently in Slab City. They knew each other a few weeks before deciding to get married. Merlin explained to me that he has inhabited other human bodies before and often shifts between them. Soon after their wedding, Shen kicked him out for abusive behaviour.
---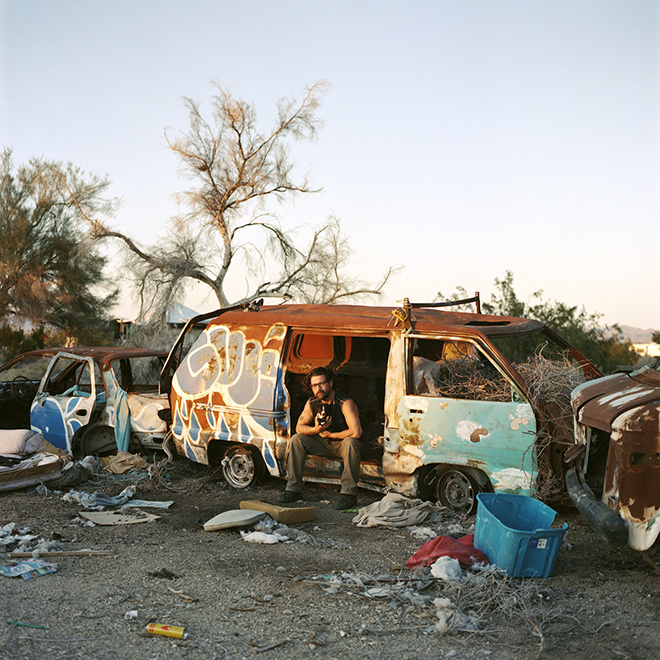 ©Daniel Skwarna – Desert Dweller (JT and Blue)
Slab City is littered with the shells of cars that have become canvasses for local artists. JT came directly to Slab City after being discharged from the army. He poses here with his tiny puppy, Blue.
---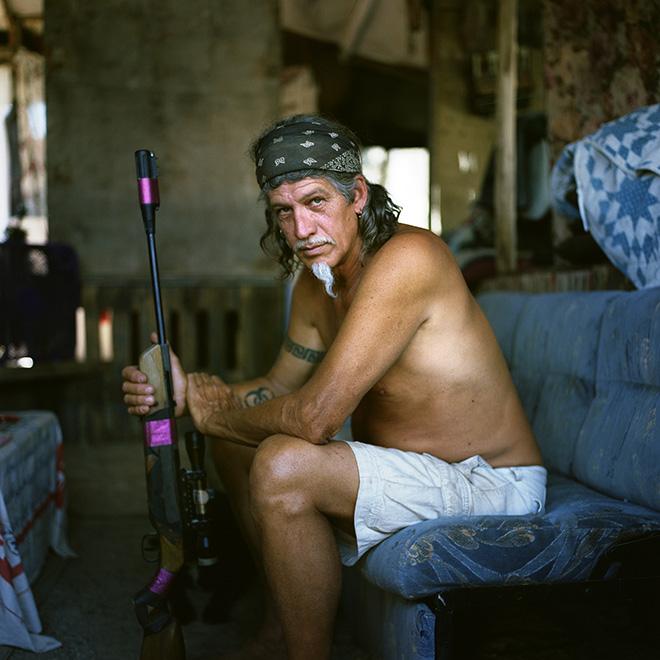 ©Daniel Skwarna – Desert Dweller, (Karibe in his living room
)
After years in the Navy, including a stint in the Persian Gulf, Karibe bought a van and decided to drive the United States. He ran out of gas near Slab City and decided to stay permanently. His broken down van still sits in his yard. Karibe's camp is one of the more impressive ones in the Slabs, built by hand over 7 years. He rarely goes out and patrols the camp with his pellet gun, often peeking over his fence to chat with passing tourists.
---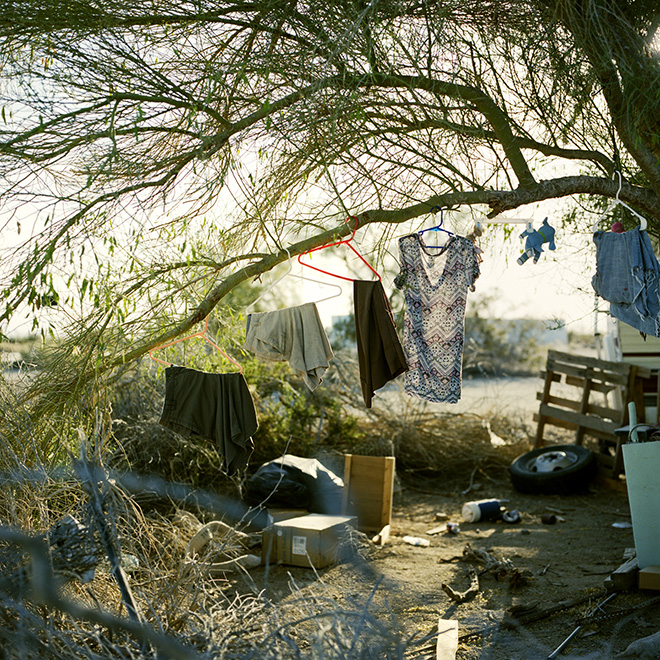 ©Daniel Skwarna – Desert Dweller, (Clothes drying)
The first thing you notice entering Slab City is accumulated trash and discarded material. Without sanitation or garbage pick-up, waste is simply left to be or tossed in the backcountry, an area officially known as Slab Mart. Clothes drying on lines or hanging off trees are a common site.

---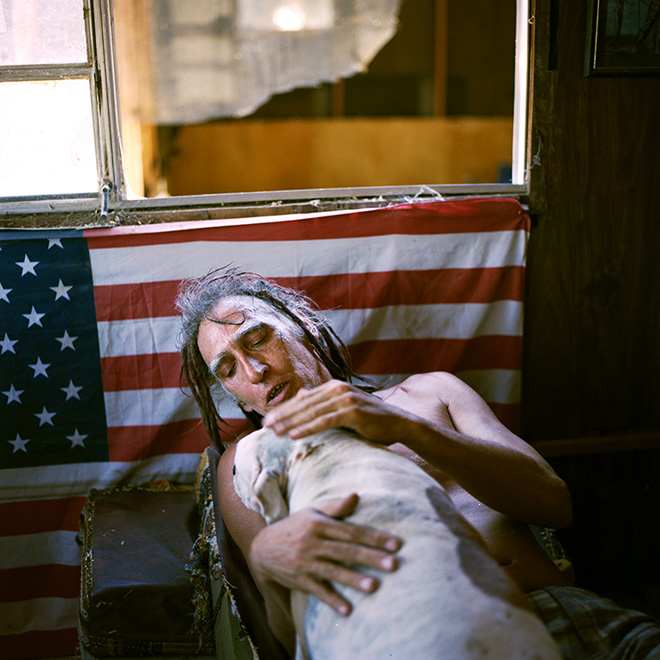 ©Daniel Skwarna – Desert Dweller, (Jack Two Horses and Maggie Mae
)
A former landlord, florist, and interior decorator, Jack moved from San Francisco to Slab City after the 2008 financial crisis to learn how to live for free. He lives with Maggie Mae and several cats in a trailer parked next to the East Jesus outdoor art gallery. He makes extra money selling stickers to tourists passing through.
---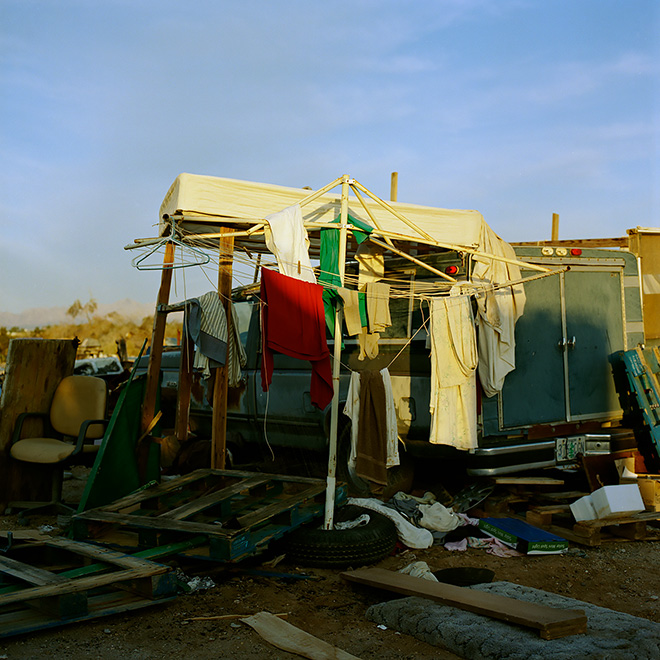 ©Daniel Skwarna – Desert Dweller, (Spirit Tae hugs her dog at sunrise with Bacon Bits the duck in the background)
---
– via: Art Vibes submission – photo credits: – courtesy of: All About Photo
---