One Comment
Better by bike - City of Buenos Aires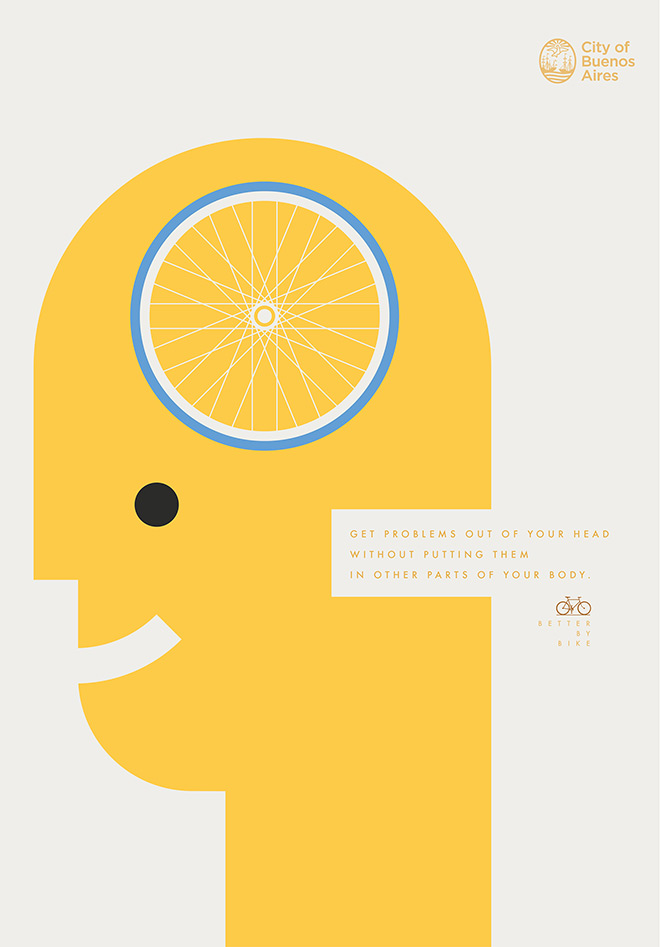 Redazione Art-Vibes | On 06, Giu 2014
Originale campagna pubblicitaria argentina per incoraggiare l'uso della bicicletta.
di Redazione Art Vibes
---
La città di Buenos Aires, capitale dell'Argentina, ha avviato una campagna pubblicitaria per incoraggiare i suoi residenti a usare la bicicletta, in modo da risolvere alcuni problemi legati a traffico e inquinamento.
La campagna, ideata dall'agenzia indipendente La Comunidad, si basa su una serie di cinque poster che uniscono il disegno stilizzato di una parte del corpo umano, polmoni, ginocchia, cuore, testa e stomaco alle ruote della bicicletta.
La linea comune di tutti i poster è lo slogan "Better by Bike", "Meglio in bicicletta", con annessa la spiegazione in merito ai benefici che l'andare su due ruote porta a ogni specifica parte del corpo.
L'amministrazione di Buenos Aires è impegnata da diversi anni nella promozione di iniziative volte a incoraggiare gli abitanti della città a usare la bici. Nel 2010 era stata lanciata la campagna "Eco Bici", che includeva una rete di 800 biciclette pubbliche, 32 stazioni in cui recuperarle e oltre 100 chilometri di piste ciclabili. Da allora l'uso delle bici come mezzo di trasporto urbano è aumentato di sei volte, raggiungendo la cifra di 2 milioni di ciclisti.
La campagna Better By Bike è stato sviluppato da La comunidad dal direttore creativo Joaquín Molla, executive creative director / copywriter Ramiro Raposo, executive creative director director / art Fernando Sosa, direttore artistico Dante Zamboni, copywriter Nicolas Larroquet, Adrian Rey e Aaron Zimroth, illustratore Guillermo Muñoz, direttore account di gruppo Sebastian Diaz, Account Executive Lucas Saenz, responsabile della produzione grafica Ramiro Capisto, in collaborazione con Città di Buenos Aires direttore marketing Fanny Peña.
IMAGE CREDITS © LA COMUNIDAD
A heart so strong only love can break it.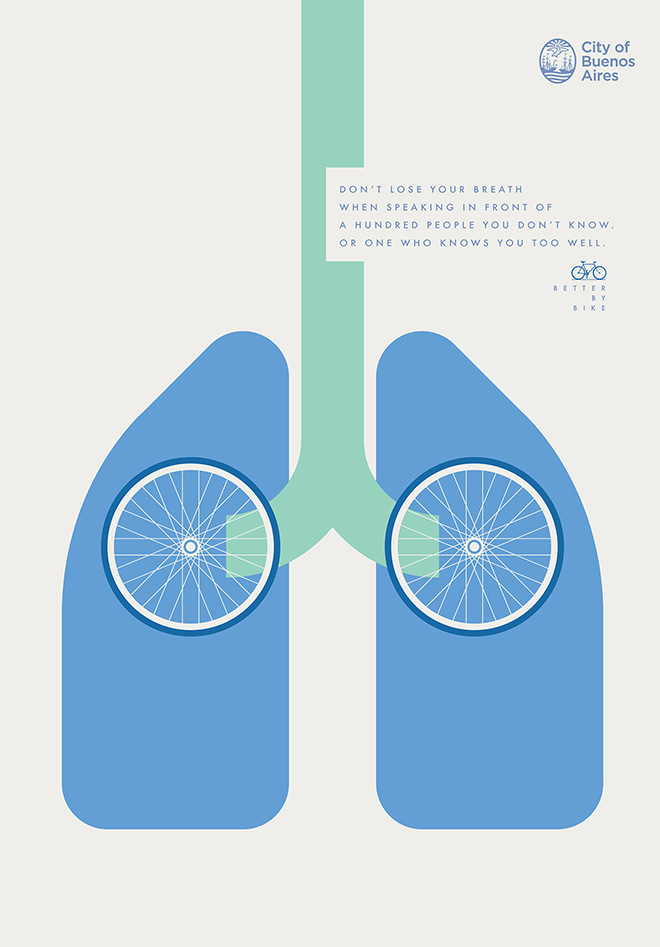 Don't lose your breath. When speaking to a hundred people you don't know or someone who knows you too well.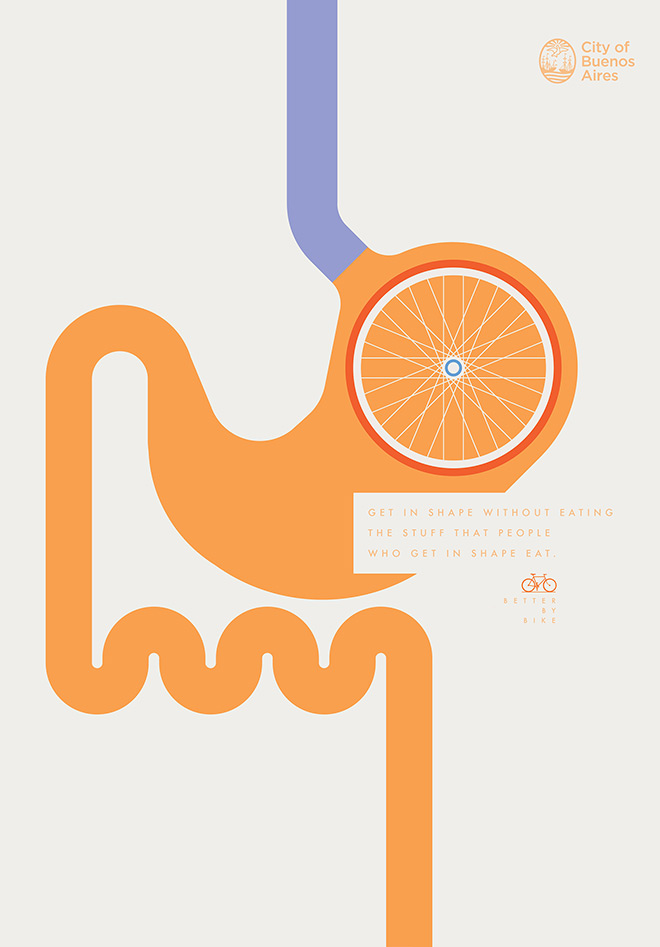 Get in shape without eating the stuff that people who get in shape eat.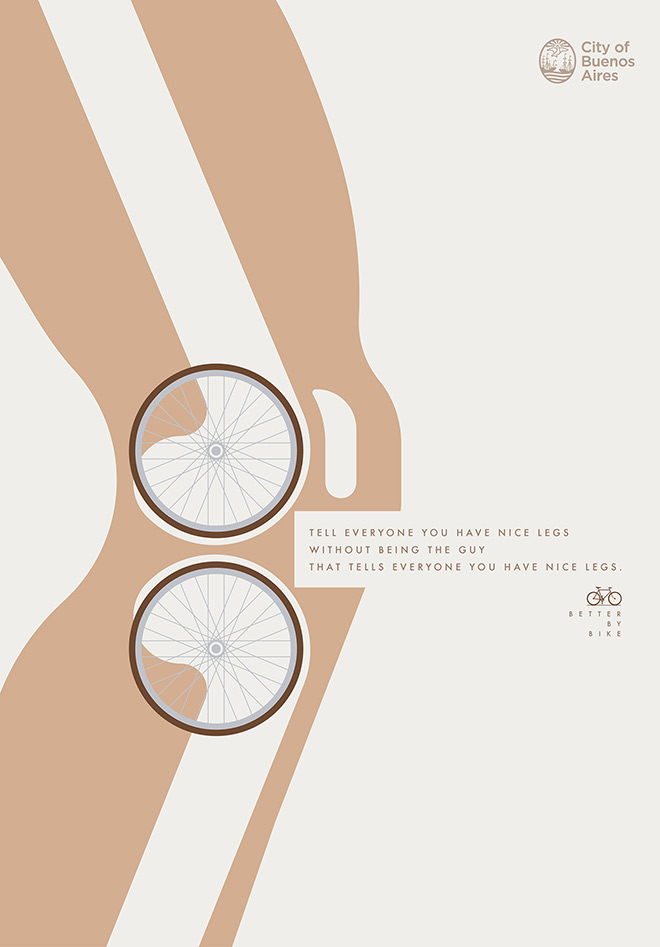 Get in shape without eating the stuff that people who get in shape eat.
IMAGE CREDITS © LA COMUNIDAD
– Images via: theinspirationroom.com
---
Further Reading:
– La comunidad website: lacomunidad.com
---