No Comments
Jim Campbell - Scattered Light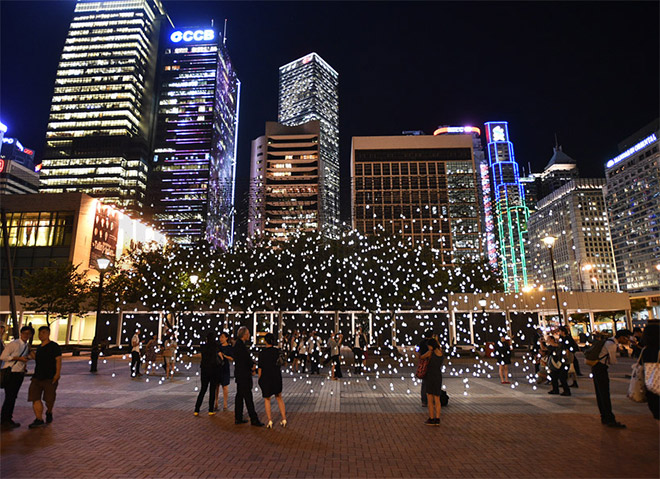 Redazione Art-Vibes | On 10, Ott 2014
L'energia meditativa della luce nell'ultima installazione di Jim Campbell a Hong Kong.
di Redazione Art Vibes
---
Sullo sfondo di Hong Kong, l'artista di San Francisco, Jim Campbell ha illuminato Edinburgh Place con più di 2.000 lampadine a LED. Avevamo già presentato l' artista durante la sua mostra presso la galleria Bryce Wolkowitz a New York.
Ora lo scenario è totalmente differente, cambiano i contesti logistici ma ciò che rimane protagonista è la luce in tutte le sue declinazioni. L'installazione, intitolata Scattered Light, è composta da lampadine appese ad una rete, che funge da struttura portante ( 80 metri di larghezza per quasi 10 metri di altezza) e incoraggia i visitatori ad avventurarsi in un dedalo luminoso.

Le lampadine disposte in modo non ordinato formano una cornice luminescente, ed emanano impulsi di luce in modo apparentemente casuale. Tale effetto si traduce in una proiezione delle ombre delle figure di passaggio, sfumando il confine tra il pubblico e il paesaggio urbano circostante.
L'installazione è stata promossa dalla
school of creative media of city university
e dall'
hong kong arts development council
ed è strettamente legata ad un altro progetto dell'artista, "
Eternal Recurrence
", costituito da proiezioni di ombre che risalgono un lato dell'edificio più alto della città.
"La luce è un meta-oggetto. C'è qualcosa di magico nell'averci a che fare; le persone diventano meditative."

Jim Campbell
---
– via: designboom – the creators project
– Photo courtesy of: Jim Campbell
Jim Campbell – Scattered Light