Eron artista Archives - Art Vibes
ottobre 16, 2018 | Redazione Art-Vibes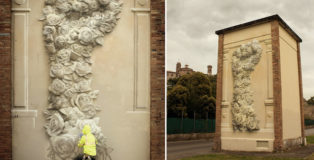 Santarcangelo di Romagna: il nuovo capolavoro di Eron, un'opera poetica, silenziosa e allo stesso tempo dirompente.
di Redazione Art Vibes
Picture: Eron – Tower to the people, Santarcangelo di Romagna (RN), 2018. photo credit: Davide Gasparetti.
Eron, artista riminese, … Read More
aprile 15, 2016 | Redazione Art-Vibes
Un'opera dal forte impatto estetico e dal profondo significato sociale.
di Redazione Art Vibes
In occasione del convegno sulla storicizzazione del graffiti writing e della street art andato in scena a Roma sabato 9 Aprile, l'artista italiano Eron è stato … Read More